Halloween Pizza-Themed Ideas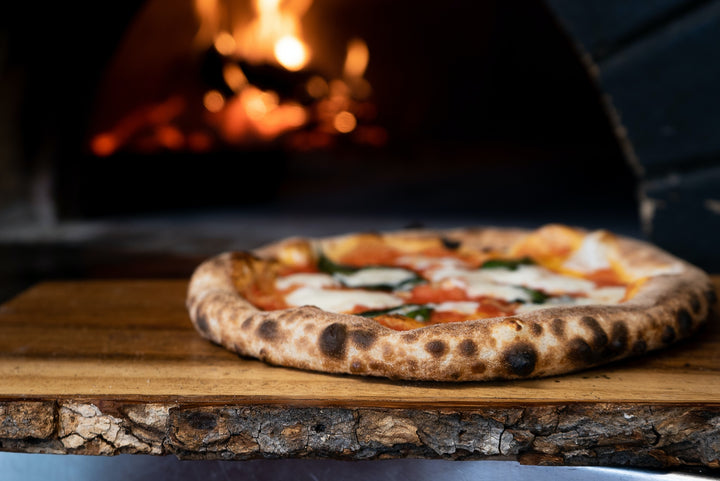 Halloween is all about amassing the most candy but the kids will need some fuel before heading out into the night! Invest in one of our outdoor pizza ovens and host a Halloween pizza party. Here are some of our favorite spooky recipes for Halloween pizzas to try and inspire your own ghoulish creations. Set up a station where everyone can make their own customized pizzas complete with spider webs, mozzarella mummies, and more.
What You Will Need
In order to create the perfect pizza-themed Halloween party, there are a few things you will need to have in stock. Start with the following list and use your imagination to build on it, according to what you and your family enjoy on your pizzas.
Some pizza dough or a good pizza dough recipe and the required ingredients.

Pizza sauce

to spread onto your pizzas. Here's our quick and simple recipe.

A selection of cheeses including mozzarella, cheddar, and pick your faves.

Some black and green olives which will be very versatile for decorations.

Your favorite meat and veggie toppings like pepperoni, bacon, green bell peppers, onions etc. that can easily be cut into spooky shapes

Sauces

for dipping your Halloween pizza treats in. We've got 7 different options if you want something more than marinara.

Dessert pizza toppings

. Why not use some of the candy that was collected too?

Halloween cookie cutter shapes,

such as ghosts, spiders, skulls, etc.

And, of course, a Fontana Forni USA outdoor pizza oven in which to cook all of your eerie pizzas and snacks.
Halloween Pizza Ideas

to Try at Home
There are an endless number of pizza-themed Halloween ideas to try out, and you can play around with just about anything you can imagine. To get your creepy creativity going, here's a few inspirations.
Personalized Pizzas
Buy or make a bunch of mini pizza bases and dress them up with any Halloween ideas you can think of.
Make spiders out of black olives or red eyes with pimento stuffed green olives.

Create mummy pizzas by topping the pizza with strips of cheese or pastry and using olives for eyes.
Make a vampire face with red, green or orange bell peppers for the mouth and fangs, olives for the eyes, and mushrooms or strips of cheese for the hair.

Use cut-up pepperoni or Canadian bacon to form the features of a jack-o-lantern.

Create a 3-eyed monster with olive-topped mozzarella balls for the eyes and triangles of pepperoni for the teeth.

Use your Halloween cookie cutters to cut shapes–we love ghosts made out of fresh mozzarella–or any other topping you like. Simply place on top of the pizza and throw it into the oven.
Halloween Pizza Skulls
If you have any Halloween baking molds, such as skulls, try pressing some pizza dough into them in a thin layer, filling them with pizza toppings, and then closing them up with more pizza dough. These will make great dipping snacks and will look quite macabre when you take a bite, especially if filled with some red pizza sauce.
Jack-o-Lantern Pizzas
Try creating a pumpkin-shaped pizza by shaping your raw dough and decorating it with toppings in the shapes of the holes you would cut on your jack-o-lantern. Use triangles of pepperoni for the eyes, for example. You could also create a ghost-shaped pizza or any other Halloween shape you can think of.
Blood and Bones
Halloween isn't Halloween without a little bit of gore. Try shaping some pizza dough into fingers or bones. Wrapping the dough around a stick of cheese or a thin sausage will create a more full finger or bone shape. You could use small triangles of red pepper or some slivers of almond for the finger nails. Serve with a marinara dipping sauce for a deliciously gory look.
Dessert Pizzas
If you're planning on going all out, try your hand at making some sweet Halloween pizzas. You can make spiders and spider webs out of chocolate, wrap cookies to make mummies with chocolate chips for eyes, or make witch hats from pizza dough and fill them with chocolate. Use fruit to make scary facial features on your pizzas or use candy corn for vampire fangs.
Decorate Your Pizza-Making Area
Now that you have plenty of Halloween pizza ideas for your main meal and dessert, all you need is to decorate the area you and your guests will be spending most of your time in—the pizza-making area. Just be sure that any decorations you choose will not be affected by the heat of the pizza oven. Try putting a Halloween-themed table cloth on your pizza desk and hang the area with cobwebs and macabre décor before serving up your array of scary pizzas.
The best pizzas end with a hot bake in a Fontana Forni USA oven. Call us today at 877-842-9822 to order the right one for you.
---

40+ Years of Innovation | 100% Made in Italy
Built to Last | Superior Design & Construction