Fontana Forni: Inventors of the Metal Outdoor Italian Wood-Fired Pizza Oven
Exclusive Maestro 60 Offer!
FREE Premium Cover with every purchase of a Maestro 60 and Saputo Stones!
Hybrids: Convenience Meets Tradition
No more trade-offs between speed and authenticity in your culinary journey. With our Hybrid ovens, you get the quick and convenient cooking of gas or the experience and aromatics of a traditional wood-fired oven.
Shop Our Most Popular Outdoor Pizza Ovens | Ready To Ship!
FREE SHIPPING ON ANY OVEN ORDER*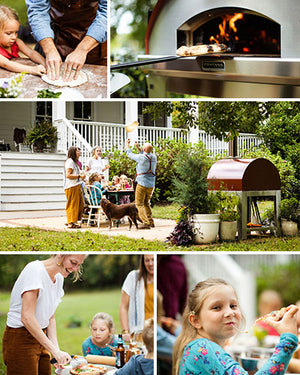 Host Your Own Pizza Party with Fontana Forni Ovens!
Saputo Stones
Fontana's Secret to 900-Degree Pizzas Without the Scorched Crust
After being shaped, the stones are air-dried and fired in a wood-fired kiln, giving them their characteristic terracotta color. The result is a stone with exceptional heat retention and moisture absorption, capable of cooking a Neapolitan pizza at 850°F for 60-90 seconds without burning the bottom. These stones are a testament to the rich history of pizza making in Naples and are an indispensable tool for achieving true Neapolitan pizza in your Fontana oven
What Our Customers Are Saying
★★★★★

Added this to my arsenal of outdoor cooking units and have absolutely zero regrets. The craftsmanship is perfect and it cooks not only perfect pizzas but awesome steaks and chicken in cast iron pans. I used to only trust the United States and Canada for top quality products but now I've added Italy to the list of high end products. Lifetime investment!! Having worked on submarine reactors for 38 years I know quality, this is it.

David T.

Jefferson, NH
★★★★★

Not only is this a amazing oven, the customer service is top notch. I have never dealt with such a friendly customer service. It came in perfect condition and also no cheap junk here. I have not felt this good about a product in a long time.

Ronald H.

Spokane, WA
★★★★★

This is my 3rd oven from Fontana they are simply the best out there. Don't accept anything else. The customer service is great and the pizzas are even better. Pete is great and it's family when you buy from them!

Joe H.

Loudon, TN
★★★★★

This pizza oven has been the talk of every party. In addition to making spectacular pizza, it is the show stopper. We use this year round summer and winter. We are moving homes and the buyer of our current house requested the oven and tools. So I am ordering a new one with all new toys.

Dan

Omaha, NE
★★★★★

This is honestly one of the most satisfying purchases I have ever made. From the beginning, outstanding customer service, then the product arrives well packaged and is so well constructed. It performs flawlessly. It is beautiful, performs well and is a work of artisan craftsmanship. This product is, hands down, worth every penny.

Michael

Winchester, VA
★★★★★

Beautiful, stout, and functional. We literally cook everything in it. Spend some time to learn your oven and you learn to control fire, a wonderful feeling BTW. Easy to assemble and pleased that it takes two people to lift, revealing how well insulated and made it is. I get many questions, where did you buy and why. I tell them wonderful customer service and attention to detail is why I chose Fontana . My advice to anyone is skip to your next vacation and buy the oven , you will never look back. To watch my 7 grandchildren make their own pizza and then roast marshmallows is worth the price of admission!

Gregory R.

Ephrata, PA
★★★★★

As soon as I fire it up the neighbors start texting, "Are you making pizza? Can we please come over?" They really take your pizzas to the next level. These are great ovens and the company is top-notch also. Highly recommended.

David

Denver, CO
★★★★★

This is our second oven. First one burned in the Glass Mt. fire in St. Helena. But only thing standing after the fire! Some patina on exterior, but still used it until we started rebuilding and just bought a new replacement. You get what you pay for and this oven and the customer service definitely delivers.

Jason C.

St Helena, CA
★★★★★

We just took delivery of the all new Maestro 60 and we love it! This thing is a beast, the craftsmanship is amazing on both the oven and on the stand. This is not a flimsy little pizza oven! Very solidly built and has impressively responsive cooking performance. We are not new to cooking pizzas outdoors and my wife used to work at the world famous Frank Pepe Pizzeria in New Haven, CT. Our first pizzas on the Maestro would have even made Frank Pepe happy!

Edward R.

Cape Elizabeth, MA
Fontana Forni USA is Dedicated to Bringing Traditional Brick Oven Pizza to Your Backyard
Our wood-fired and gas-fired pizza ovens are made in Italy to ensure you get an authentic cooking experience. Take a look at our lineup of wood-fired pizza ovens, all of which heat up in thirty minutes or less. Or maybe you'd like one of our ETL- and CSA-certified gas-fired pizza ovens—every bit the equal of our wood-fired pizza ovens, these models are for homeowners who prefer to cook with either propane or natural gas. No matter what kind of outdoor pizza oven you select, you can be assured that you're getting the best that Italy has to offer, direct from the workshop of the legendary Fontana family.
Authentic Italian Recipes For Your Fontana Outdoor Oven
Grilled & Roasted Meat Recipes
What Fontana Outdoor Pizza Oven Do I Choose?
The Authentic Italian Pizza Oven
Our Forno Toscano line of outdoor wood-fired pizza ovens—the Margherita, the Mangiafuoco, and the Marinara—heat up to cooking temperature within 30 minutes. Our wood-fired pizza ovens are both fuel efficient and portable. In nearly the same amount of time it takes to preheat, prepare, and cook a pizza using an indoor oven, you can experience authentic Italian-style brick oven pizza cooked in a Fontana oven right in your own backyard.
Our gas-fired pizza ovens are ETL & CSA certified, which means they comply with rigorous North American safety standards. Fontana Forni gas-fired pizza ovens offer the same great features as our wood-fired pizza ovens but with the added convenience of gas. The Margherita Gas and Mangiafuoco Gas can be fueled using propane or natural gas (with a conversion kit).

Since our gas pizza ovens don't produce ash, they're easy to maintain, with very little cleanup required. When compared to the hours of heat-up time and the construction costs of traditional ceramic wood-fired ovens, Fontana Forni outdoor pizza ovens just make sense—it's why so many of our customers say ours is the best outdoor home pizza oven available!

The Authentic Italian Pizza Oven
Fontana Forni has been the pioneer of the authentic backyard pizza oven for nearly 40 years. Fontana Forni USA is the official North American distributor of Fontana Forni traditional Italian pizza ovens.

Each of the residential pizza ovens in our collection is designed and constructed in Italy using the finest materials. Our versatile outdoor pizza ovens not only make exceptional pizza, they're also ideal for cooking meats, vegetables, breads, and desserts. Check out our recipes section for a variety of mouthwatering recipe ideas you can prepare with a portable outdoor pizza oven from Fontana Forni.

Italians are renowned both for their love of food and their craftsmanship. Inspired by the tradition of Italian cooking innovation, the master craftsmen at Fontana Forni have designed a variety of professional-grade pizza ovens for outdoor cooking enthusiasts. Each of our pizza ovens has all the benefits of a traditional built-in outdoor ceramic oven at a fraction of the cost.
View our entire collection of outdoor pizza ovens for sale. Our collection includes standalone and countertop pizza ovens with your choice of fuel: wood or gas.

40+ Years of Innovation | 100% Made in Italy
Built to Last | Superior Design & Construction