What Dads Actually Want for Father's Day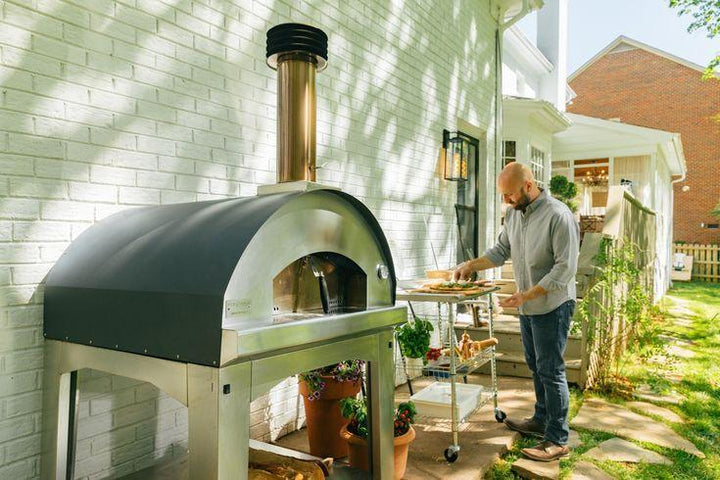 When you are deciding what gift to get your dad for Father's Day, it can be quite challenging. Should you get him another tie? Maybe more cologne that he doesn't seem to use that often? Or maybe you should consider something he would actually use and enjoy year-round like an outdoor pizza oven. 
Coming Up with Gift Ideas for Father's Day
When trying to come up with a creative Father's Day gift idea, remember the best father's day gift ideas revolve around several factors, including:
Your dad being able to enjoy and spend quality time with his family

Making memories together as a family

Enjoying great food together, whether eating at home or traveling on vacation

Being able to entertain and host parties and family gatherings

Making your dad feel special and appreciated

Giving him a thoughtful and memorable gift that won't be quickly forgotten

Thinking about their hobbies and interests when choosing a Father's Day gift

Considering Father's Day gift ideas of foods he enjoys

Thinking about what type of gift would be something he would treasure for years to come

Giving your father something he would regularly use, even daily

Choosing a gift that could result in creating new family traditions
Why Get Your Dad an Outdoor Pizza Oven
If your dad is like most dads, he likes to cook outdoors on the barbecue grill, making steaks, burgers, BBQ ribs, hot dogs, chicken, corn on the cob, and other great-tasting food. You may even have images of your dad standing next to the grill showing you how to grill the perfect steak.
Since your dad most likely already has a grill, why not get him something for Father's Day that further builds on his enjoyment of cooking outdoors? Imagine you and your dad making freshly baked pizzas in his new outdoor pizza oven.
Plus, your dad can take his outdoor cooking skills to the next level. Outdoor pizza ovens are not just for making great-tasting restaurant-quality pizzas. You can roast, bake, broil, and cook a wide range of foods in the pizza oven, such as breads, roasts, vegetables, cakes, pies, and more.
Another reason one of the best Father's Day gift ideas is an outdoor pizza oven is it is a gift he will use again and again. An outdoor pizza oven is the perfect gift when your dad enjoys cooking outdoors, eating different foods, and entertaining guests. Not to mention, your dad can show off his new pizza oven to the neighbors and his friends.
Additional Pizza Maker Gifts for Dad
Suppose you want to get your dad a pizza oven for Father's Day and include additional pizza maker gifts. In that case, some of the best pizza oven outdoor gift ideas revolve around different types of accessories to enhance your dad's cooking abilities, such as:
Turning Peels

Pizza Peels

Pizza Cutters

Infrared Thermometers

Brass-Bristle Brushes

Pizza Dough Storage Containers

Bench Scrapers

Pizza Oven Cleaning Kits

Outdoor Pizza Oven Recipes/Cook Books

Pizza Oven Covers

Ash Shovel
You could even get him a "pizza desk." A pizza desk is an outdoor workstation that can be used as a preparation area to make pizzas and other foods. The lower area of the desk is great for storing essential materials, wood, and a four-space tool holder for pizza peels, brushes, etc. Best of all, the pizza desk is mobile, so you can easily move it around.
Why to Choose Fontana Forni Outdoor Pizza Ovens for Father's Day Gifts
When you want the best pizza oven outdoor manufacturer, you should choose Fontana Forni. Each of our pizza ovens is handcrafted in Italy using traditional, old-world craftsmanship to meet the highest quality standards and most robust construction in our gas- and wood-fired pizza ovens.
In addition, our pizza ovens are constructed using superior quality materials that are corrosion-resistant and which feature stainless steel and powdered-coated metals. Our insulation in our pizza ovens is also thicker compared to other models on the market today.
Superior insulation results in better temperature retention, allowing you to cook multiple pizzas in a row and ensuring other foods are cooked at an even temperature. Furthermore, our outdoor pizza ovens make the best father's day gift idea your father will cherish for years to come.
Planning the Perfect Father's Day Pizza Party
When you want to surprise your father with a new outdoor pizza oven for Father's Day, it is also the perfect time to plan a pizza party. You should make sure you have plenty of pizza dough, sauce, cheese, and your favorite toppings on hand and ready to go.
You will also need to have the right accessories, such as a pizza peel, pizza cutter, and infrared thermometer, to monitor the temperature of the pizza oven. When it is time to surprise your dad, turn on some music outside and then blindfold him as you bring him outdoors.
You could entice him to guess what you got him by offering hints if you want to make things even more fun. Once he discovers you got him a pizza oven, celebrate by making pizza together as a family.
You could also get your dad a nice bottle of wine that pairs well with pizza if your dad enjoys wine. Other family members could supplement your gift with recipes or a custom apron he can wear when using his new outdoor pizza oven.
Once the pizzas are made, sit around the table outside and enjoy the freshly baked pizza. Make sure to take plenty of pictures of how much your father loves his Father's Day gift and eating together that you can post on social media later. 
Order You Father's Day Pizza Oven Today
Father's Day is on June 19, 2022, so you have just enough time to order your Father's Day pizza oven gift and get it in time from Fontana Forni. We also have different pizza oven accessory kits and pizza desks you can order when your dad already has an outdoor pizza oven, and you want to get him pizza maker gifts.
Order online today, or please feel free to contact us at 877-842-9822 if you have any questions or require further assistance.
---

40+ Years of Innovation | 100% Made in Italy
Built to Last | Superior Design & Construction