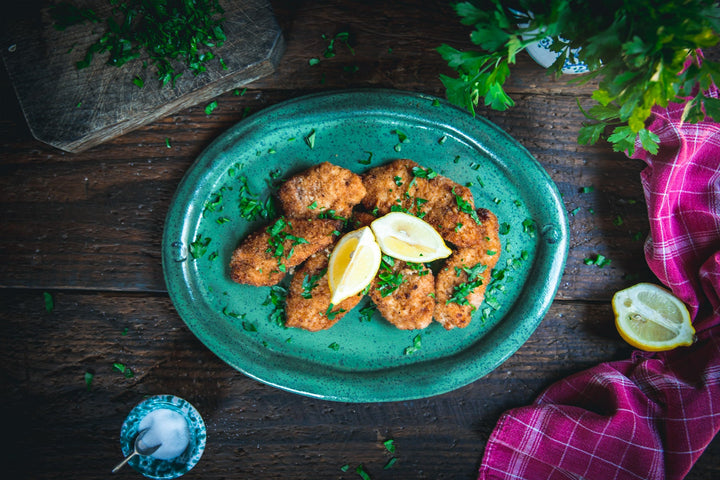 Breaded Chicken
Recipe:
 Breaded chicken breasts are not only delicious when fried, but also very simple to prepare.   Every single bite is accompanied by a mouthwatering and crunchy exterior as well as a delightful sense of freshness emanated from the lemon juice and the chopped parsley.  These morsels of goodness can be accompanied by your favorite side dishes or tucked inside a crunchy baguette for a delicious sandwich.  Let's get started!
Supplies:
 Ingredients: 
2 chicken breasts 
2 eggs
350 grams bread crumbs (we only used a small portion)
Salt to taste
500 grams frying oil (we used Canola oil) 
Lemon wedges to squeeze on chicken when served
Small bunch fresh parsley for garnish 
Directions:  
Preheat Oven to 350°- 375°F - 176°- 190°C.
Butterly each chicken breast and cut them into strips.
Crack the eggs into a dish large enough to hold the chicken strips.  Add salt to taste and whisk until smooth.
Transfer only part of the breadcrumbs in a separate dish.  More can be added later as needed.  Doing this will keep what you don't need uncontaminated from the raw chicken. 
Dip the breasts strips into the egg mixture and then into the breadcrumbs.  Make sure the chicken is completely breaded. 
Place the frying pan with the oil inside the oven to preheat to about 350°-375°F.  
Once the oil is up to temperature, carefully place the breaded chicken in the hot oil and transfer back into the oven.  Fry for 3 to 4 minutes.  Flip the chicken pieces and place the pan back inside the oven for an additional 3 minutes.
Remove the chicken from the frying pan and rest of a rack allowing excess oil to drip off.  Lay absorbent paper under the cooling rack. 
Plate the chicken on a serving dish and garnish with freshly chopped parsley and lemon wedges.  Enjoy! 
Buon Appetito!
Subscribe to our YouTube channel for more videos! 
---

40+ Years of Innovation | 100% Made in Italy
Built to Last | Superior Design & Construction