Spicy Buffalo Chicken Recipe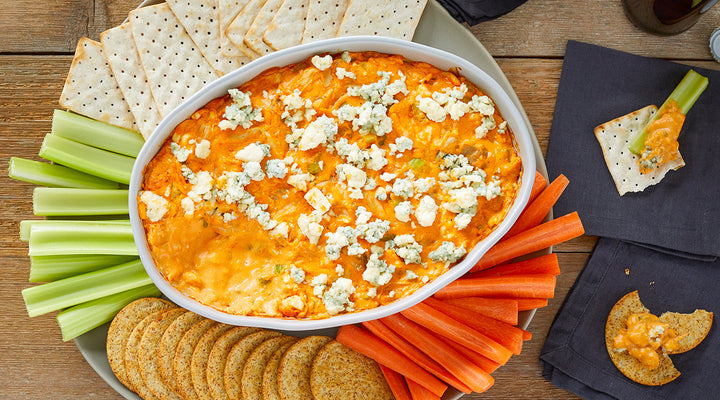 It's the final countdown! The Super Bowl is almost here so this week we're sharing some of our favorite dips and dishes to share this Sunday. Go to all of our recipes for simple and quick finger-foods that can easily elevate your tailgate. Here's our play on a smoky buffalo chicken dip that's easy to make for a large crowd.
Plus! Nothing is worse than a cold, greasy dip that's cooled just as the half-time show begins. With a Fontana Forni USA oven, a quick reheat will get you back in front of the screen without missing a moment. Game on!
Prep Time: 10 mins.
Cook Time: 30 mins.
Servings: 24
Difficulty: Low
Supplies:
Fontana Forni USA oven
Large pot

 

(if not using pre-cooked chicken)
Stirring utensil for mixing
Large greased cooking tray
Aluminum foil
Ingredients:
8 cups shredded poached chicken (6 large boneless chicken breasts or mix)
450 g cream cheese
2 cups ranch dressing
2 cups Frank's Hot Sauce
2 tsp garlic powder
2 tsp black pepper
1 tsp cayenne pepper
3 cups shredded mozzarella
3 cups shredded cheddar cheese
Crostini, crackers, veggie sticks etc. (for dipping)
Directions: 
1.) Preheat oven to approximately 350°F. Keep a very low temp for this recipe by maintaining a small fire.
2.) If your chicken isn't already pre-cooked bring a pot of water up to a boil and place the chicken inside.
3.) Once brought back to a boil, remove from the heat, cover with a lid, and allow the chicken to continue to poach for approximately 30 mins. 
4.) Remove and allow chicken to cool then shred.
5.) In a large sauce pan combine cream cheese, hot sauce, ranch dressing, pepper, garlic, and cayenne while slowly heating and whisking constantly.
6.) Once cream cheese is completely dissolved, remove from heat.
7.) Add in the shredded chicken, 2 cups mozzarella, and 2 cups of cheddar then mix well. 
8.) Pour entire contents into a greased cooking tray like Pyrex. And top with the remaining cheddar and mozzarella.

9.) Cover with foil and place in oven for approximately 15 mins. 
10.) Remove foil and allow to cook for another 15 mins., or until the top begins to brown.

11.) Remove and serve immediately (careful, it gets hot!) with either crostini, chips, crackers, veggie sticks or anything you love to dip with.
Buon Appetito!
Subscribe to our YouTube channel for more videos! We're also on Instagram, Facebook, Pintrest, and TikTok!
---

40+ Years of Innovation | 100% Made in Italy
Built to Last | Superior Design & Construction