Tuscan Fegatini (Chicken Liver Pâté) on Bruschetta Recipe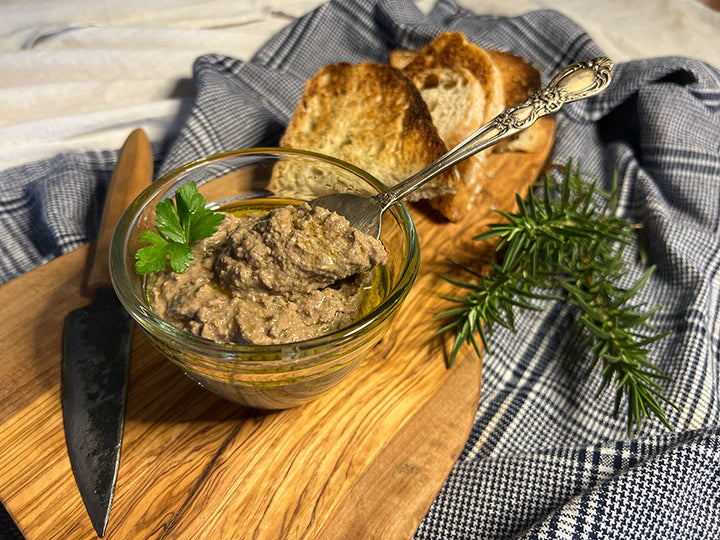 There's nothing more Tuscan than this rich pâté piled on top of crisp bruschetta straight out of our oven. Our in-house expert on all things Fontana, Philip grew up with this luxe spread in Italy and is sharing his own nostalgic version for your snacking pleasure. It packs so much flavor alone, you won't need to add any toppings. Serve it as a quick snack or spoil your dinner guests as a savory app. If you're entertaining, we recommend setting up a toppings bar full of coarse flaky sea salt, thick cracked pepper, an assortment of fresh cut herbs and spices along with any other bases for dipping like crudités to create a totally customizable experience.
Prep Time: 25 mins.
Cook Time: 65 mins.
Servings: 
Difficulty: Low
SUPPLIES:
Large bowl

Kitchen ladle
Serving board
INGREDIENTS:
500g chicken livers

50g salted butter

50g capers (in vinegar)

½ lt. chicken broth

2 sweet Vidalia onion (diced)

1 sprig of rosemary

1 cup of dry white wine 

1 tsp. of anchovy paste

2 Tbsp. olive oil
Salt & pepper to tase
Crusty bread to toast into bruschetta
DIRECTIONS:
1.) Preheat oven to approximately 400°F.  Keep a very low temp once you have
sautéed by maintaining a small fire. Cooking temp will be about 300°F.
2.) Preheat sauté pan in oven.
3.) Finely dice onion and combine with olive oil and half of the butter into the pan. Sauté in oven until the onions are translucent (approximately 10 mins.).
4.) Separately, wash and clean chicken livers of all excess tendons and any non-liver components. If you see anything green, remove as it will be very bitter.
5.) Dice the cleaned livers into ¼ inch slices/dices.
6.) Transfer diced livers into sauté pan with onions. At this time, you will also add the minced rosemary and capers with a little bit of the vinegar from the capers. 
7.) After about 10 mins. or so, remove the pan from the oven and add the cup of wine. Make sure that you stir it around to "clean" the pan of all the browned components and then place back into the oven to slowly cook until the wine smell has dissipated. 
8.) Add salt and pepper to taste. 
9.) Warm up the chicken broth separately and then slowly add it to the sauté pan a ladle at a time. Between ladles, make sure that you mix thoroughly.
10.) Cover and allow to cook at a low temp for 40-45 minutes.
11.) Finally, add all the remaining butter as well as the anchovy paste and mix.
12.) Remove from the oven and allow to come to room temp. Once cooled, you can blend with an immersion blender to desired smoothness. This can be stored in the refrigerator, or frozen following specific instructions. However, it is obviously ideal for eating immediately! 
13.) Brown some sliced bread (with light coat of good olive oil on top) as a bruschetta in your oven and top with a nice portion of pâté for a taste of Tuscany.
Buon Appetito!
Subscribe to our YouTube channel for more videos! We're also on Instagram, Facebook, Pintrest, and TikTok!
---

40+ Years of Innovation | 100% Made in Italy
Built to Last | Superior Design & Construction