Black Truffle Pizza - Pizza al Tartufo Nero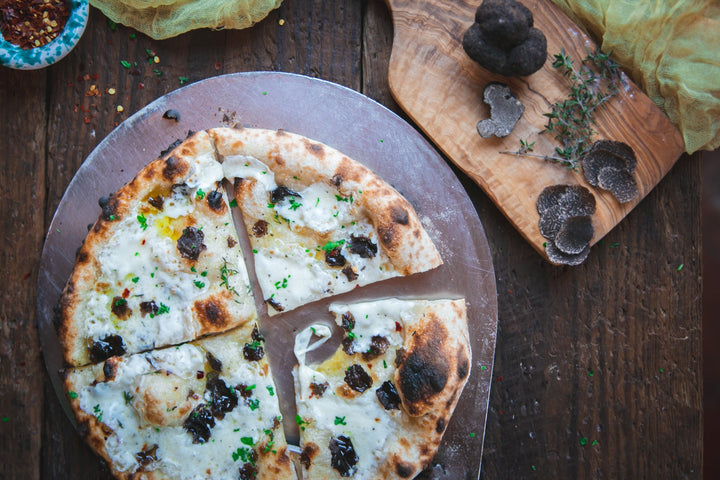 Black Truffle Pizza - Pizza al Tartufo Nero
Recipe:
Pizza is such a classic, versatile and loved food all around the globe.  This classic Italian dish can be prepared in so many ways with delicious possibilities when it comes to toppings.  Black truffle shavings placed all across the top of a Pizza Bianca, white pizza, is definitely a delicious and exquisite treat. 
 Supplies:
Perforated Pizza Peel
Truffle slicer
Pizza slicer
Ingredients:
Mozzarella
2 sprigs thyme
Small bunch parsley
Olive oil
Directions:
Preheat the oven to 750°F - 390°C  (850°F - 454°C if you have purchased the SAPUTO stones).
Roll out the dough either with a rolling pin or by hand, as shown in the video.  
Once the dough is rolled out, place slices of mozzarella over the stretched pizza. 
Slice the black truffle very thinly and spread it all over the pizza.
Distribute some fresh thyme over the pizza as well as hot pepper flakes.
Drizzle olive oil over the top.
Top it off with salt to taste.
With the help of the perforated pizza peel slide the pizza into the preheated oven.
Rotate the pizza by placing the turning peel under the edge of the pizza turning it 1/4 of the way.  Repeat this action so all sides are exposed to the fire. 
Place the peel under the pizza and remove it from the oven.  Top it off with fresh parsley.  It is ready to eat immediately.  Enjoy!   
Buon Appetito!
Subscribe to our YouTube channel for more videos! 
Follow us on Instagram and tag us with your culinary magic! We would love to see how you make this recipe!
---

40+ Years of Innovation | 100% Made in Italy
Built to Last | Superior Design & Construction