Spice It Up! Brownies Recipe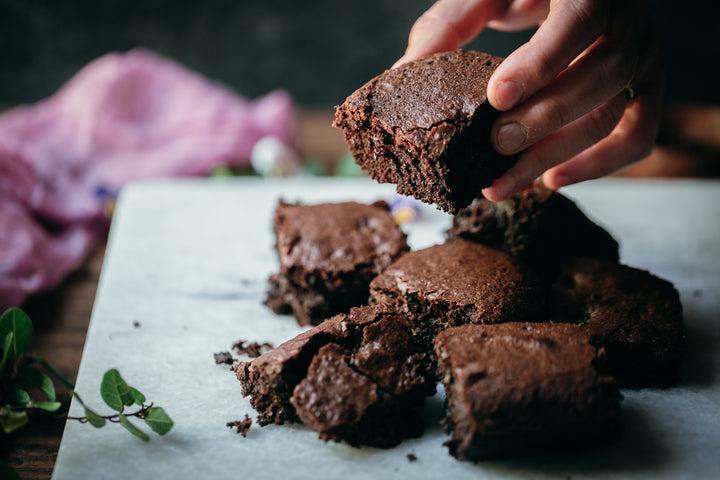 Something happened last summer that sparked a growing enthusiasm for spice. Remember when there was an uproar about the shortage of sriracha? Or the Paqui "One Chip Challenge" that had people on all of the social channels braving its combo of South Carolina Reaper and scorpion peppers? 
Our in-house expert, Philip recent talked up his family's fave gluten-free brownie mix from Nature's Promise on his recent Instagram LIVE and gave this basic recipe some serious kick. You can pick whatever spicy pepper powder that suits your palette (or go fresh) but combined with rich chocolate, it's a perfect balance of sweet and spicy. We recommend adding some Mexican cinnamon to the batter or serve it with a nice horchata beverage on the side.
Prep Time: 10 mins.
Cook Time: 45 mins.
Servings: 16 (2 Tbsp.) servings
Difficulty: Low
 Supplies:
Fontana Forni USA oven (if making gluten-free pie crust below)
Non-stick baking pan
Large mixing bowl
Spatula
Aluminum foil
Ingredients:
1 packet Nature's Promise Gluten-Free Chocolate Brownie Mix (our in-house GF brownie fave)
1 stick of melted butter
1 tsp gluten-free bourbon (optional)
5 tsp. milk (add extra tsp. if you don't add bourbon)
2 eggs
½ cup dark chocolate chips

½ tsp pequin

 chili powder or cayenne pepper (optional: a nice dash of Mexican cinnamon for more depth of flavor)
Pam cooking spray
Directions:
1.) Preheat oven to approximately 350°F. Keep a very low temp. by maintaining a small fire.
2.) Combine all ingredients in a mixing bowl. Mix well and then pour into a non-stick pan greased with Pam cooking spray or other non-stick coating.
3.) Cover with a piece of aluminum foil then place in oven and cook for a minimum of 30 minutes. However, it can be up to an hour depending on how well-done you like your brownies—some prefer a gooier center and others like a firmer texture.  Check by poking toothpick into the center to find your preferred "doneness" or once brownies have begun pulling away from the sides. 
4.) Remove pan from oven and allow brownies to cool.
5.) Cut and serve while still warm. You can always add your favorite toppings like a DIY dulce du leche sauce or simple vanilla ice cream if you want to keep it easy. But we encourage you to experiment with even more unconventional flavor combos!

Buon Appetito!
Subscribe to our YouTube channel for more videos! 
Follow us on Instagram and tag us with your culinary magic! We would love to see how you make this recipe!
---

40+ Years of Innovation | 100% Made in Italy
Built to Last | Superior Design & Construction