Arugula/Avocado Smash Burger Recipe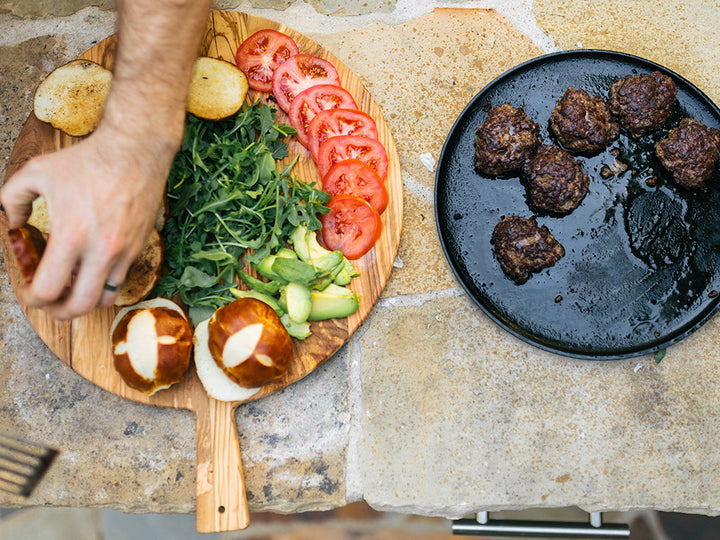 What was once known as a cheap treat for sailors in the 1940s is now in the era of gourmet. We elevated our smash burger sliders by using small pretzel buns, arugula, and avocado. Cooked in our Mangiafuoco oven, these sliders taste as good as they look. 
Ingredients
2 lbs 80 x 20 Freshly Ground Beef

Small Pretzel Buns

Tomato

Avocado

Arugula

Salt
Preparation
Preheat the oven to 650 Fahrenheit, and then place a cast-iron skillet into the oven to preheat.

Separate the beef into ¼ pound sections and lightly roll them into balls and sprinkle with salt

Once the oven and skillet are preheated, remove the skillet and place the beef onto the skillet

The meat will immediately begin browning; use a spatula to smash them down into patties. 

Flip to brown evenly. 

Once cooked to the desired temp, remove from the oven, slice the pretzel buns in half and dip cut side down into the burger grease and briefly place in the oven to brown 

Assemble the sliders with a patty, slice of fresh tomato, sliced avocado, and fresh arugula.
---

40+ Years of Innovation | 100% Made in Italy
Built to Last | Superior Design & Construction