Potato Crusted Red Drum Fish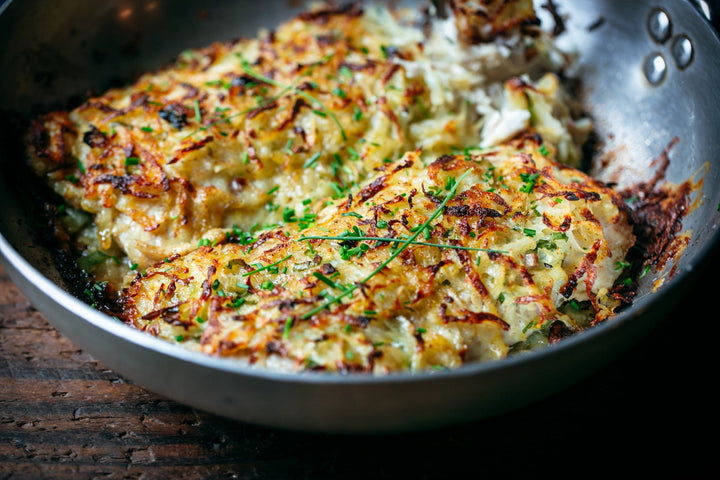 Potato Crusted Red Drum Fish 
Recipe:
Potato Crusted Red Drum is definitely a most delicious way to prepare a mouthwatering main course in no time at all.  Inspired by Chef Jacques Pépin we decided to adapt the dish with what we had on hand, and put together this very simple yet delicious dish.  Let's get started!  Thank you Chef.  You always inspire us.  
Supplies:
 Ingredients: 
600 grams Red Drum Fish 
3 golden Yukon potatoes 
1 shallot 
Small bunch chives
3 green onions tops thinly sliced
Salt to taste
Pepper to taste
Cayenne pepper to taste 
Directions:  
Preheat Mangiafuoco Gas Oven to 375°- 400°F - 190°- 204°C.  
Shred the potatoes with a cheese grater or in a food processor.  Remove the starchy water from the potatoes by firmly squeezing them between both hands.
Chop the green onions and the shallot.
Mix together the potatoes, green onions, shallot, as well as salt and pepper.
Salt and pepper both sides of the fish.
Drizzle olive oil into the preheated pan.
Divide the potato mixture in fourths.  Place two fourths in the bottom of the pan about the size of each fish fillet.
Lay the fish on top of the potato bed and cover each with the rest of the shredded potatoes.  Dust the top with cayenne pepper. (optional)
Place the pan in the preheated oven, close the door and allow to bake for about 10 minutes or until the potatoes are nicely golden brown on both sides.  With smaller portions of potato encrusted fillets, it is possible to flip each after about 5-6 minutes.
Remove from the oven and garnish with chopped chives.  Enjoy! 
Buon Appetito!
Subscribe to our YouTube channel for more videos! 
---

40+ Years of Innovation | 100% Made in Italy
Built to Last | Superior Design & Construction