Pizza Dough with Pasta di Riporto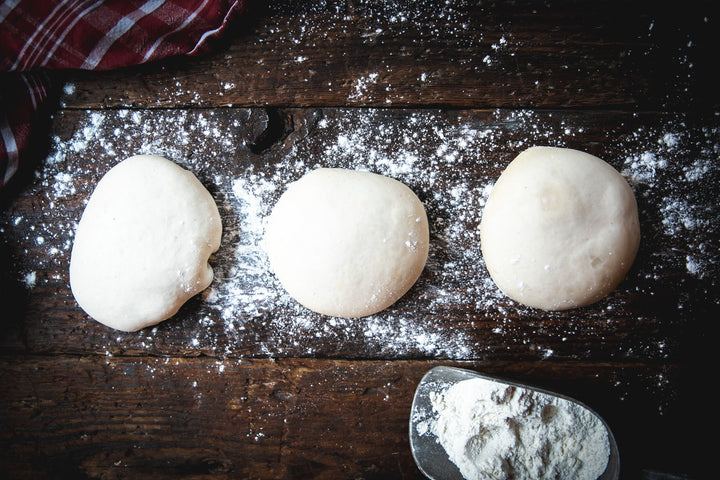 Pizza Dough with Pasta di Riporto 
Recipe:
There are countless ways to prepare dough for pizza.  Different hydration levels, varied combinations of flours, leavening methods and resting times.  One very ancient Italian way to leaven dough is to use Pasta di Riporto, which is a portion of old dough from a previous bake.  Not only will this result into a dough that needs less yeast to ferment, but amongst other benefits it will also develop a final product with a much greater depth of flavor.  Let's get started! 
Supplies:
 Ingredients: 
1 kilo 00 flour or Anima Verace by Molino Denti - not sponsored, we just love it
200 grams of Pasta di Riporto or Pasta vecchia (old dough)
630 grams water
18 grams salt
5 grams yeast
Directions:  
Place the flour in a large capacity bowl, and make a well in the center.
Pour the water inside of the flour well, and add the Pasta di Riporto (leftover dough from the previous bake).  Pull apart the left over dough into small pieces, mix and disperse inside the water.
Add the yeast, allow to dissolve and begin mixing everything together.
Add the salt and continue kneading and working the dough. 
Transfer on a clean work surface and finish working in all dry ingredients.  At this point the dough will look shaggy with an uneven surface.  No worries!  Place the dough back into the bowl, cover with a damp towel and allow it to rest for 10-15 minutes.  During this time the flour will be fully hydrated and the dough will begin to relax.  When time is up, knead the dough again.  Notice how not only is it easier to work with, but it feels different to the touch, and has a much smoother consistency and surface.  Do this process of kneading and resting one more time. 
Cover the dough and allow it to proof for at least one hour on the countertop before dividing and shaping into pizza balls.  
Finally separate the dough into dough balls as shown in the video. 
Arrange the shaped balls into covered dough trays, and allow them to rise for at least 1.5 hour if planning to make pizza the same night.  For even greater depth of flavor refrigerate the dough balls overnight.  Allow them to come to room temperature before rolling out for pizza.  Enjoy! 
Buon Appetito!
Subscribe to our YouTube channel for more videos! 
---

40+ Years of Innovation | 100% Made in Italy
Built to Last | Superior Design & Construction