Pizza con Patate e Funghi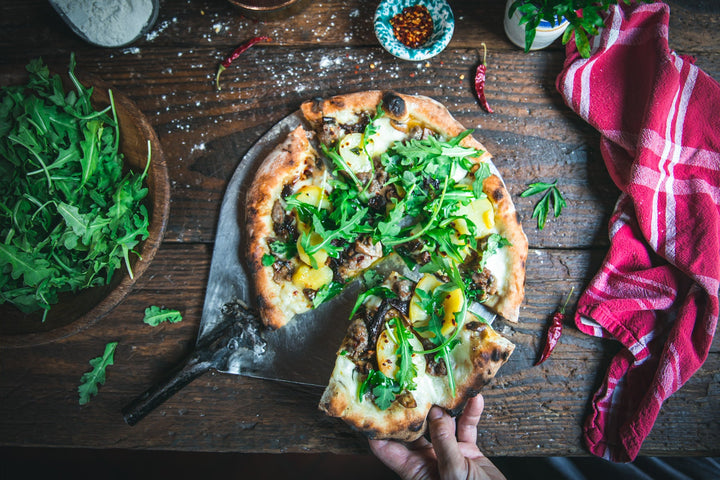 Pizza con Patate, Salsiccia e Funghi
Recipe:
There is something so refreshing about a classic white pizza.  Rustic, flavorful, and perfectly delicious.  Slices of potatoes, mushrooms and sausage will be the stars of the show.  So simple, yet incredibly packed with so much flavor!   Let's get started!
Supplies:
 Ingredients: 
2 mozzarella balls 
2 yellow potatoes boiled 
A handful of dried porcini mushrooms (rehydrated) 
200 grams champignon mushrooms sliced
1 sausage link 
2 cloves garlic
1 small bunch of parsley
Arugula for topping 
Cayenne pepper flakes to taste 
Salt to taste
Olive oil 
Directions:  
Preheat Mangiafuoco Home Gas Pizza Oven to 750°F - 400°C.  (850°F-900°F - 454°F - 482°C when switching the original stones to our SAPUTO stones from Naples, Italy)
Boil the potatoes until slightly fork tender.  Once boiled, peel them and allow to completely cool.  After the potatoes have fully cooled, slice them into rounds, and drizzle with olive oil.
Rehydrate the porcini mushrooms by soaking them in warm water.  Once rehydrated squeeze the water out and set aside. 
Chop the champignon mushrooms (white button) and sauté in a hot pan with a nice drizzle of olive oil, crushed garlic, cayenne pepper and chopped parsley.  When the mushrooms begin to soften, add some of the porcini water which is full of flavor and allow to cook out.  Chop the porcini and add to the pan.  Salt only at the end.  
Dust the work surface with flour and stretch out the pizza dough, as shown in the video.
Tear mozzarella into chunks and scatter over the stretched dough.  
Add the sliced potatoes, mushrooms and small pieces of sausage straight from the casing.  Give everything a good dusting of cayenne pepper for extra spice, a little salt and a drizzle of olive oil.    
Check the oven temperature and place the pizza into the hot oven.  Occasionally rotate the pizza with the turning peel for even baking.
Remove the pizza from the oven and top with fresh arugula.  Slice and serve immediately!  Enjoy! 
Buon Appetito!
Check out our YouTube channel for more videos! 
---

40+ Years of Innovation | 100% Made in Italy
Built to Last | Superior Design & Construction