Olive Oil Matzo Recipe for Passover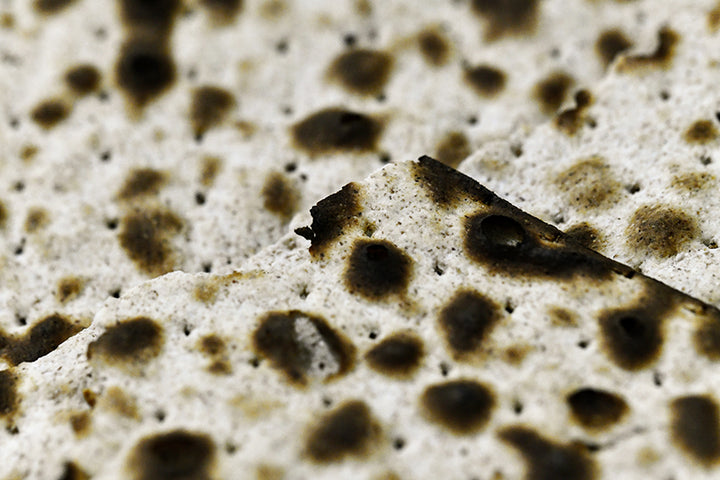 Happy Passover! We made a super simple matzo to but remember, if you let the dough sit for longer than 18 minutes, it apparently is no longer able to be called matzo. If you want to do it properly, preheat your oven first and then jump right in!
Prep Time: 10 mins.
Cook Time: 3 to 4 mins.
Servings: 12
Difficulty: Low
Supplies:
Ingredients:
2 cups AP Flour

½ teaspoon salt

1/3 cup olive oil

Kosher salt (optional)

Rosemary (optional)
Directions:
1.) Preheat oven to approximately 500°F.  You will want to keep a lower temp for this recipe. To do this, you will need to maintain a small fire.  
2.) Combine all ingredients into a food processor. Mix well until the dough is evenly distributed. You may need to remove and form into a dough ball by hand once mixed. 
3.) Cut dough ball in half, then each half in half, and those pieces into thirds. This should give you 12 even dough balls. You may need to reform them by hand.
4.) Flour a surface and roll the dough out into 6-8 inch discs. The dough will need to be very thin. You should almost be able to see through them. 
4.) You can either place these on a non-stick pan or you can cook them directly on the stones of your oven. Keep in mind that the dough will brown very quickly. 
5.) To ensure you don't burn it, flip about half way through to evenly brown both sides. You can salt them before hand or afterwards. Plus, you can use whatever toppings you might want like rosemary.
Buon Appetito!
Subscribe to our YouTube channel or any of our other channels including TikTok, Instagram, Facebook, YouTube and Pinterest.
@FontanaForniusa   #fontanaovens #fontanafriend
---

40+ Years of Innovation | 100% Made in Italy
Built to Last | Superior Design & Construction