Wood-Fired Prime Rib Recipe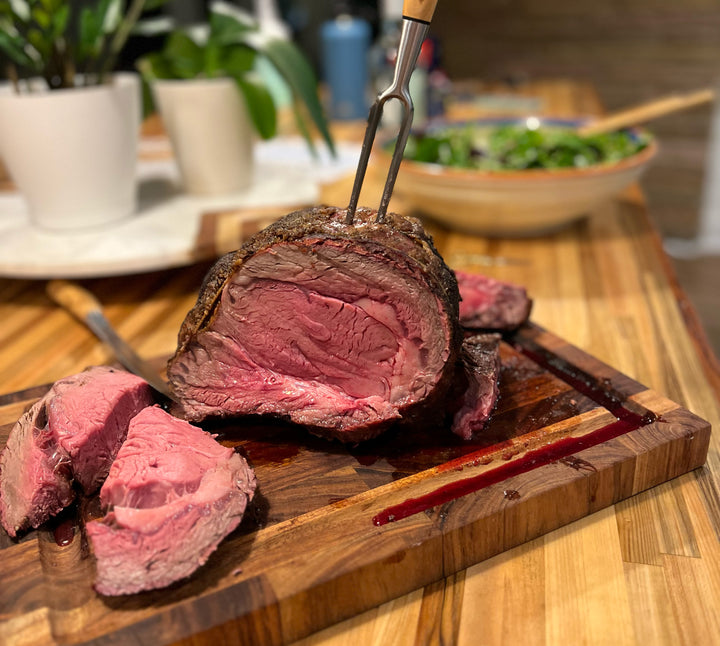 It's National Protein Day! And what better to celebrate it than an immaculate prime rib with a smooth smokey flavor from our wood-fired oven? It's the perfect way to let this protein bring all the flavor to your meal in just a few simple steps. The key is to let the meat do all the work!
Prep-Time: 15 mins.
Cook Time: Approx. 60 to 90 mins.
Servings: Approx. 6
Difficulty: Very Low
Supplies:
Ingredients:
Approx. 2 lb. bone-in standing rib roast

Olive oil (enough to coat whole roast, approx. 2-3 Tbsp.)

Coarse salt & f

resh cracked black pepper to taste

Mix of dried herbs for additional depth of flavor (optional)
Directions:
1.) Pre-heat oven to about 300°F degrees and make sure it maintains this temp for at least 2 hours.
2.) Cut off any excess fat then make small cuts in between rib bones.
3.) Truss together with cooking twine to keep the meat shape and lock in moisture to maintain juiciness.
4.) Cover your prime rib with a nice coating of oil then pack on salt and pepper to season properly.
5.) Place in large roasting pan with a riser grid then cover loosely with aluminum foil to keep it from burning.
6.) Put into the oven and rotate every 30 minutes or so until internal temp reaches 130 degrees.
7.) Remove it from the oven and let it rest for about 20 mins. wrapped in aluminum foil tightly.

6.) Once it's properly rested, slice, and serve with sides of your choice.
Buon Appetito!
Subscribe to our YouTube channel for more videos! 
Follow us on Instagram and tag us with your culinary magic! We would love to see how you make this recipe!
---

40+ Years of Innovation | 100% Made in Italy
Built to Last | Superior Design & Construction