Involtini di Cavolo Verza - Cabbage Rolls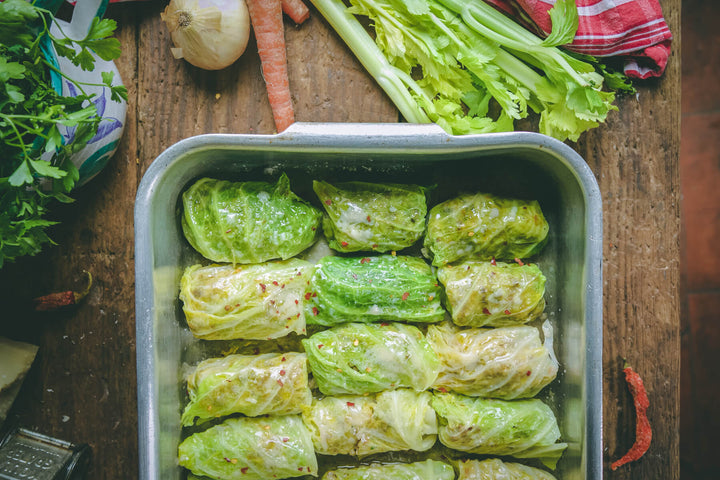 Involtini di Cavolo Verza - Cabbage Packages
Ingredients:
For Filling:
60 grams carrots finely chopped
60 grams celery finely chopped
70 grams onion finely chopped
EVOO (extra virgin olive oil)
30 grams butter
Hot pepper flakes (optional)
350 grams rice Carnaroli or Arborio
70 grams white wine
400 grams ground sausage
2 sprigs of thyme
1 liter vegetable broth
Salt to taste
50 grams grated parmesan cheese
For Wrapping:
10 whole leaves of SAVOI cabbage

50 grams grated parmesan cheese

EVOO (extra virgin olive oil)

Directions:
Mince the odori (carrots, celery, onion).
Pre-heat a pan and add butter and a drizzle of olive oil.
Simmer the odori for 15 minutes, stirring consistently.
Add hot pepper flakes to taste (optional).
Add the rice to the odori and toast until the grains become translucent.
Add white wine and allow it to evaporate or sfumare.
Add sausage and thyme to the mixture and allow the meat to brown.
Once the meat is browned, begin adding the vegetable broth a little at a time constantly stirring.
When rice is "Al Dente" or still a little hard, turn the heat off and add a hunk of butter and the parmesan and stir it all in causing it to "mantecare".
Carefully remove the leaves from the cabbage without ripping.
Place the leaves in boiling water for 1-2 minutes.
Once cooked, carefully remove the leaves from the pot, and with a sharp knife cut the leaf in half, removing the hard center or the spine.
Place the rice filling on each leaf and roll into a package (like a burrito).
Drizzle pan with olive oil. Place the cabbage packages in a pan with the seam facing down and drizzle them with olive oil.
Bake at 375-400 F for 20 minutes.
Half way through baking add grated parmesan to the top of the cabbage and finish baking.
Carefully pull the pan out of the oven and let rest a few minutes.
Serve and enjoy! Buon Appetito!
Watch the Video
---

40+ Years of Innovation | 100% Made in Italy
Built to Last | Superior Design & Construction