How to Add Value to Your Rental Property with Outdoor Living Spaces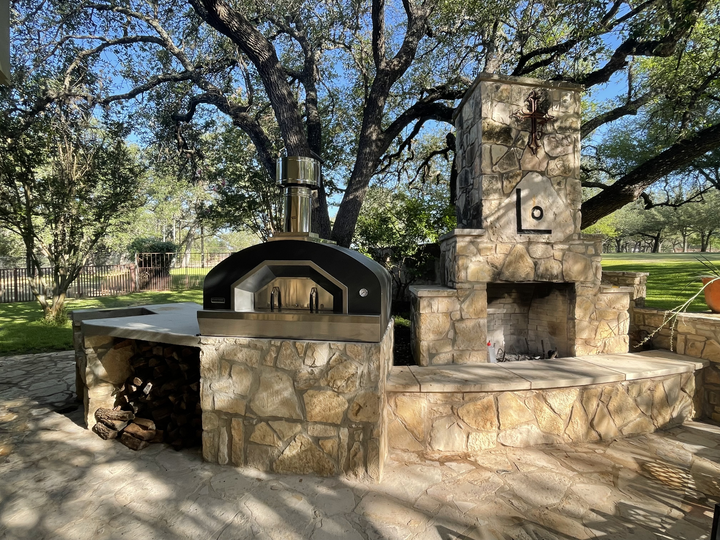 As a rental property owner, finding new ways to maximize the appeal and profitability of your investments is probably one of your top priorities. One proven strategy to achieve this is by designing and integrating add-ons and outdoor living spaces into your property.
If you own a house or condo with a large garden, terrace, or balcony, the addition of outdoor amenities can make a substantial difference. Not only do they enhance the overall appeal of your rental property, but they also add value and help you increase your rental income and ROI.
Not sure what outdoor living space best suits your property and future tenants? Here are our seven favorite outdoor living space ideas that will add value to your property.
1. Fire Pit
An outdoor fireplace or fire pit is a fantastic addition to any outdoor living space, providing a focal point for gatherings and parties. During cooler evenings, fire pits are also a great choice to keep cozy and warm, while an outdoor bar or seating area around the fire pit can turn your terrace or garden into an entertainer's playground and appeal to a broad demographic of renters.
2. Swimming Pool
A swimming pool is a classic outdoor addition that can transform your rental property into a luxurious retreat and family or entertainment-friendly venue. Not only does a pool offer a refreshing escape during hot summer days, but it also adds an element of relaxation and entertainment to your outdoor space, making it all the more in demand by renters.
3. Covered Parking
Covered parking provides a practical solution for tenants, protecting their vehicles from the elements such as rain, snow, and harsh sunlight. This added convenience not only safeguards their vehicles but also saves tenants the time and effort spent on scraping off snow or enduring scorching hot seats during summer.
Although they're practical and convenient, covered parking spaces are not always a given amenity, especially for condos and apartment buildings. This makes it a great addition to these types of rental properties where swimming pools and fire pits may not be possible to install.
The feature can attract discerning renters who prioritize the protection and security of their vehicles, especially in areas with limited public or street parking available.
4. Landscaping
Well-maintained landscaping plays a crucial role in creating a welcoming and visually appealing outdoor living space. Beautifully kept gardens, flower beds, and walkways enhance the overall aesthetic of your rental property, making it more inviting for tenants, while incorporating comfortable seating areas amid the greenery allows tenants to relax and enjoy their surroundings.
5. Garden Patio
A garden patio provides an ideal space for outdoor entertaining and relaxation. By adding a patio, you can extend the living area of your rental property, allowing tenants to enjoy the fresh air and natural beauty. Including features such as a pergola or shade sail can also offer protection from the sun and make the space feel more homey and put-together.
6. Deck
A deck is a versatile addition that adds both functionality and aesthetic appeal to your rental property. It provides an elevated outdoor space where tenants can relax, dine, or entertain guests. With the right outdoor furniture and decor, you can create a comfortable seating area that becomes an extension of the indoor living space. A well-designed deck can become a major selling point for your rental property, attracting tenants who appreciate outdoor living and a connection with nature.
7. Outdoor Kitchen
An outdoor kitchen is a sought-after add-on that elevates any outdoor entertainment space for your potential tenants. One of the best-loved components of any outdoor kitchen idea is undoubtedly to add an outdoor pizza oven to your setup. Outdoor pizza ovens quickly become the focal point for memorable gatherings, where friends and family can bond over delicious food and create lasting memories. As a result, the ability to create authentic, wood-fired pizzas right in their backyard appeals not only to food enthusiasts but also to those seeking a distinctive dining or entertainment experience.
By choosing a pizza oven from Fontana Forni, you can rest assured you are choosing an amenity built on decades of skilled craftsmanship and outstanding quality. Each of our pizza ovens is created to provide a fun, rewarding cooking experience and last for many years to come. Thanks to their heritage, they are an excellent way to elevate your rental property value and create a home tenants want to live in.
Bring Italian Craftsmanship to Your Property with Fontana Forni
When it comes to outdoor pizza ovens, Fontana Forni is a name synonymous with quality and craftsmanship. Fontana Forni offers pizza ovens that bring the authentic taste of Italy to your rental property. These well-made and durable pizza ovens not only elevate the outdoor cooking experience but also add an element of sophistication to your property. With Fontana Forni's pizza ovens, tenants can enjoy the pleasure of creating delicious pizzas in their outdoor kitchen and watch pizza-making become the highlight of their outdoor get-togethers.
Among our popular pizza ovens, the gas-fired Fontana Forni Margherita stands out for its compact size and excellent heat retention, making it ideal as an apartment outdoor pizza oven for smaller spaces. For those seeking versatility, the wood-fired Fontana Forni Marinara offers a spacious cooking surface and a built-in smoker box for endless flavor possibilities.
Not sure which oven is the right one for your space? Look through our website today to explore our range of pizza ovens and bring Italian craftsmanship to your rental property.
---

40+ Years of Innovation | 100% Made in Italy
Built to Last | Superior Design & Construction