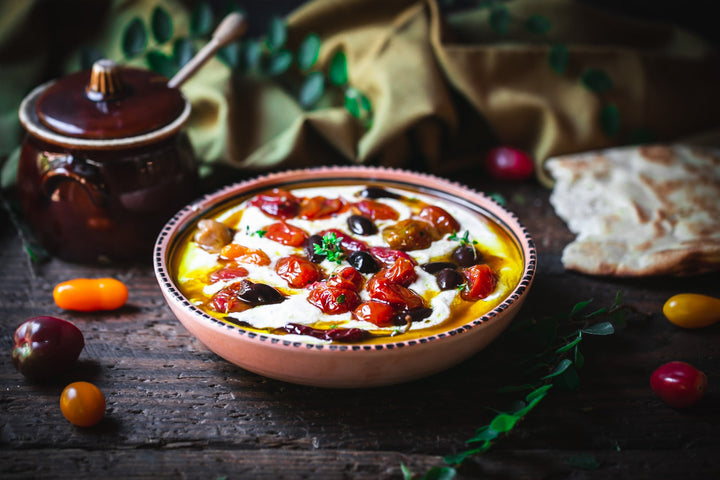 Feta & Tomato Confit Dip
Recipe:
For a super easy yet very colorful and flavorful dip, here is a delicious Feta and Tomato Confit recipe that you will want to make over and over again.  Topping the creamy dip with the sweet tomatoes and salty olives makes every morsel an experience to remember.  Let's get started!
Supplies:
 Ingredients: 
300 grams Feta cheese
226 grams cream cheese 
2 tablespoons honey 
3 tablespoons olive oil from the Tomato Confit
Tomato Confit with olives    
Thyme for garnish 
Naan for dipping
Directions:  
Preheat Oven to 375°- 400°F - 190°- 204°C.  
In a food processor blend the Feta and cream cheese.  
Add the honey and olive oil.  Blend until the cheese is completely smooth and perfectly creamy.  Make sure to scrape down the side as you mix. 
Once the cheese is smooth, plate it in the serving dish. 
Place the the Naan in the oven to slightly toast, as well as the Tomato Confit to warm up.  
Remove from the oven and spoon the hot Tomato Confit over the Feta cheese dip.  Garnish with fresh thyme and serve with the toasted Naan.  Enjoy!   
Buon Appetito!
Subscribe to our YouTube channel for more videos! 
---

40+ Years of Innovation | 100% Made in Italy
Built to Last | Superior Design & Construction