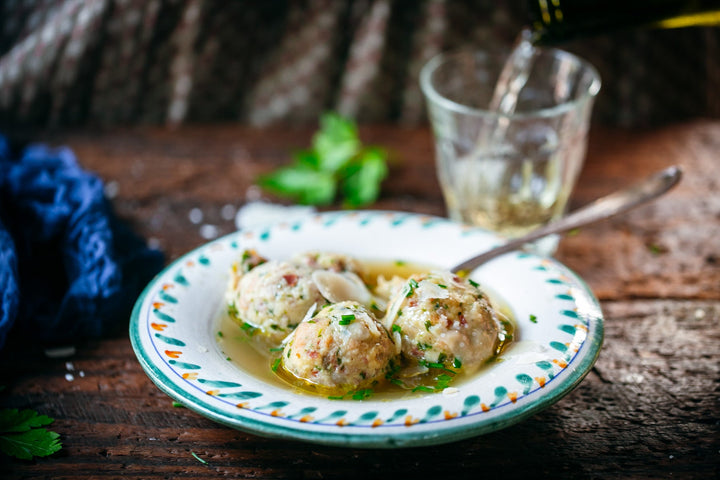 Canederli Tirolesi - Tiroler Knödel
Recipe:
Canederli Tirolesi or Tiroler Knödel, are a traditional Northern Italian dish born from a Cucina Povera, a humble Peasant Kitchen.  As so often is the case, many timeless dishes were created and prepared from a sense of necessity, when nothing was wasted, and all ingredients were resourcefully put to good use.  However humble it may be, it is the simplicity of food that often warms our soul and reminds us of pure comfort food that transports us home.  As in the making of Canederli, basic ingredients such as day old bread, eggs and milk that were always available even in the most humble kitchen, were masterfully put to good use.  Meat on the other hand was added as a luxury when available, and consequently celebrated when present.  Let's rediscover the beauty of humble dishes that will transport us and allow us to appreciate the goodness of the past.  Let's get started! 
Supplies:
 Ingredients: 
2 liters Chicken Stock (beef stock or vegetable broth as substitutes) 
300 grams of day old bread, cubed 
100 grams cubed Speck (all we could find was thinly sliced Speck rather than the thicker slab.  For that reason we decided to add some cubed Pancetta to mimic the texture of cubed Speck) 
100 grams Pancetta, cubed 
15 grams butter (you can substitute with olive oil)
80 grams yellow onion, diced 
150 grams milk
2-3 eggs, beaten
30 grams freshly minced chives (reserve some for garnish)
Small bunch of parsley, chopped
Nutmeg to taste
Black pepper to taste
Salt to taste
Directions:  
Preheat the The Mangiafuoco Home Gas Pizza Oven to 400°F - 200°C.
Place the cubed, day old bread into a large capacity bowl.  Make sure to cut it into small cubes.
Whisk the eggs with 2/3 of the milk and pour over the bread cubes.  Reserve some of the milk for later use if more hydration is needed.
Mince the parsley and chives.  Place them in the bowl with the bread.
Season with salt, nutmeg and pepper and begin mixing all ingredients with both hands.  If too dry, add the rest of the milk.  Allow the bread mixture to rest for 30 minutes, covered.    
Dice the pancetta and Speck into small cubes.  Finely, chop the onion and set aside.
Preheat the pan inside the oven.  Once preheated place the butter and the onions into the pan and allow to gently sizzle until translucent. 
Add the pancetta and speck and gently allow all ingredients to marry.  Place back into the oven, making sure to not overcook or overly brown.  Remove from the oven once the speck has turned a light golden brown, as shown in the video.  Allow it to come to room temperature.
Once cooled, add the pancetta and speck to the bread mixture.  Incorporate all ingredients.  The mixture should not be too dry nor too sticky, but resemble hamburger meat about to be shaped into meat balls.
With wet hands, shape portions of the dough into compact, large balls about 6-7cm in diameter or 2.5 inches in diameter.  Once all are evenly shaped, transfer them into the simmering broth with the help of a ladle.  Allow them to simmer for about 10 to 15 minutes or until all the Canederli float to the top.  
Remove them with a perforated ladle, and place a few into a soup plate. Pour some of the rich broth over the Canederli and garnish with the reserved chopped chives.  Top everything off with a drizzle of olive oil and shavings of Parmigiano Reggiano.  Enjoy!
Buon Appetito!
Subscribe to our YouTube channel for more videos! 
Follow us on Instagram and tag us with your culinary magic! We would love to see how you make this recipe!
@FontanaForniusa   #fontanaovens
@inside.our.kitchen   #insideourkitchen
---

40+ Years of Innovation | 100% Made in Italy
Built to Last | Superior Design & Construction