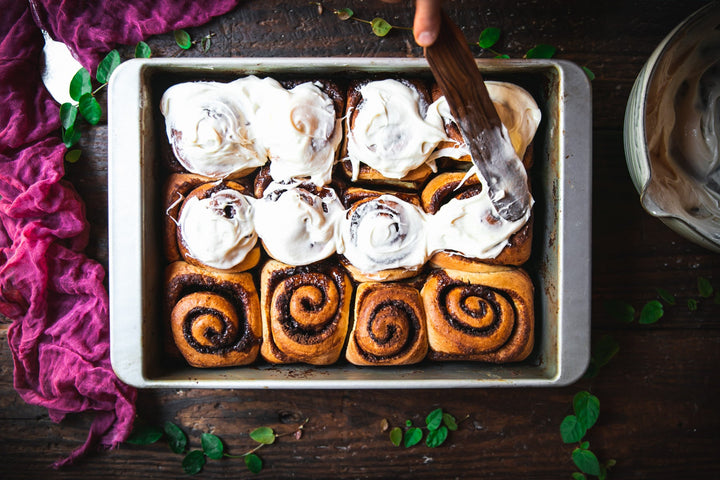 Brioche Cinnamon Rolls  
Recipe:
At times it is so wonderful when life offers something a bit indulgent just to brighten the day.  Although prepared on rare occasions, brioche cinnamon rolls are definitely a fluffy and delectable treat that makes life just a little extra sweet.  Soft layers of brioche dough rolled with butter and cinnamon sugar are baked in a wood-fired oven just like our grandmothers used to do.  Let's get started!
Supplies:
Rolling pin
USA baking pan 13.75 x 10.375 x 3 inches
String or floss
Plastic wrap or damp towel
 Ingredients: 
1,350 Kg of the Brioche Dough (half of this recipe) 
Flour for rolling out the dough 
Filling:
235 grams brown sugar
20 grams cinnamon
1/3 teaspoon salt 
116 grams melted butter - 1 stick
Glaze:
226 grams - one package cream cheese
1.5 teaspoon vanilla
230 grams sifted powdered sugar
Directions:  
Preheat The Gusto Wood Oven to 350°-375°F - 176°-190°C. 
Remove the brioche dough from the refrigerator and allow it to come to room temperature.  This should take about one hour.  
Dust the work surface and the top of the dough with flour.  Roll out the dough into a large rectangle.
Brush the melted butter over the dough all the way to the edges.
Mix the brown sugar, cinnamon and salt in a bowl.  Sprinkle most of this mixture over the dough.  Reserve some of the sugar mixture for later. 
Tightly roll the dough up into a long log, as shown in the video.  
Grease the pan with the leftover soft butter, and sprinkle the remaining sugar over the bottom of the pan. 
Cut the roll in half, and each half into six pieces, measuring about 1.5" inch - 3.81cm.  Floss is the easiest way to cut the rolls, allowing them to hold their shape without squishing them down.
Place each roll into the pan.  To keep the rolls from unraveling, tuck the end of the roll under, as shown in the video.  
Cover with plastic wrap and allow to rise for 45 minutes to one hour.
Once the rolls have doubled in size, place the pan in the oven to bake for 30-35 minutes or until golden brown.  
While the rolls are baking, prepare the cream cheese glaze.  Sift the powered sugar over the room temperature cream cheese.  Add the vanilla and thoroughly mix everything together until smooth.  Set aside.  
Once the rolls have turned a nice golden brown, remove the pan from the oven, and immediately spread the cream cheese glaze on top.  Enjoy! 
Buon Appetito!
Subscribe to our YouTube channel for more videos! 
@FontanaForniusa   #fontanaovens
---

40+ Years of Innovation | 100% Made in Italy
Built to Last | Superior Design & Construction