Why a Pizza Oven Is the Perfect Housewarming Gift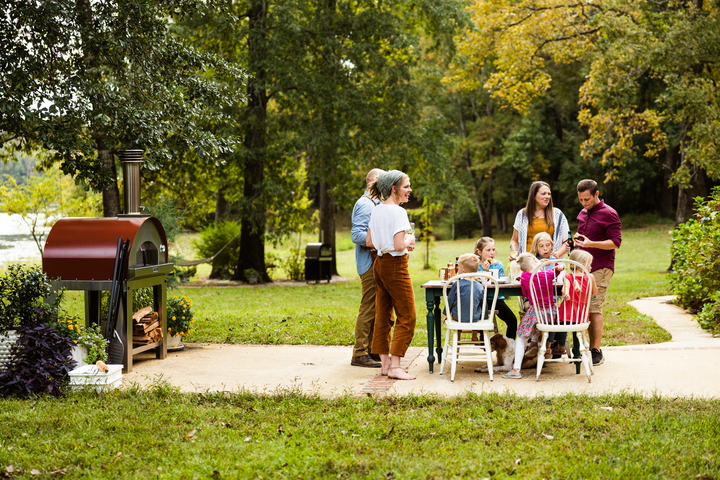 Housewarming parties are a time-honored tradition, a way of welcoming new homeowners to their abode with warmth and community. Selecting the perfect housewarming gift can be a difficult task as you sift through countless gift ideas searching for something unique, thoughtful, and memorable. Enter the pizza oven: a luxurious, fun, and practical addition to any home. We'll explore why a pizza oven is the ultimate housewarming gift for any new homeowner.
An Unrivaled Gift of Warmth and Sociability
Housewarming parties are all about new beginnings and creating lasting memories. A pizza oven is not just an appliance; it's an experience. It encourages gathering, sharing, and creating moments together. Unlike other gifts that may fade into the background, a pizza oven becomes the home's centerpiece, a focal point for social gatherings and unforgettable parties.
Cultivating Culinary Creativity
Kitchens are often considered the heart of the home, and a pizza oven takes this concept to a new level. It inspires homeowners to explore the art of Italian cooking, from crafting the perfect pizza dough to experimenting with various toppings. Yet pizza ovens aren't limited to pizza alone; they are versatile culinary tools capable of roasting meats, baking bread, and much more. Pizza oven gifts can unlock a world of culinary creativity for the entire family.
A Heartwarming Gift for Families
In the whirlwind of modern life, finding time to connect as a family can be challenging. Between busy schedules and the digital world vying for everyone's attention, it's imperative to carve out moments for togetherness.
In giving a pizza oven, you're not just providing a family with a culinary tool; you're offering them an opportunity for connection, an antidote to the busyness of life. It's a gift that says "Your family time matters." This isn't just a housewarming gift—it's a celebration of shared moments, and of the joys that simple pleasures like making pizza can bring.
In a world where every minute counts, giving a gift that encourages families to spend those minutes together is the most thoughtful gesture of all.
Enhancing Outdoor Living
For those who enjoy entertaining or spending time outdoors, a pizza oven is a fantastic addition to any patio or backyard. These ovens enhance outdoor living and dining, turning any outdoor space into an alfresco kitchen where countless evenings can be spent under the stars, enjoying homemade pizzas with the company of loved ones.
The Gift of Quality and Durability
Choosing a housewarming gift from Fontana Forni means investing in quality and durability. Our pizza ovens are designed to withstand the test of time, crafted from the finest materials, and engineered for optimal performance. When you give the gift of a Fontana Forni pizza oven, you're not just giving a temporary pleasure; you're offering a lasting token of your affection, a luxury addition to the home that will be cherished for years.
A Gift That Fits Every Lifestyle
Whether the new homeowners are culinary enthusiasts, busy families, or entertainers at heart, a pizza oven is a versatile gift that fits every lifestyle. It's a gift that encourages families to cook and eat together, hosts to entertain, and food enthusiasts to explore new recipes. The experience of creating a meal from scratch and enjoying it in the comfort of one's own backyard is a universal pleasure for all.
The Joy of Authentic Italian Cooking
There's something magical about the taste of authentic Italian pizza cooked in a wood-fired oven. The smoky flavors, the crisp crust, the melted cheese—it's a delight that's hard to replicate with any other cooking method. When you give a pizza oven, you're giving the joy of an experience that will transport the homeowners to the cobblestone streets of Naples with every bite.
A Gift for All Seasons
Pizza ovens can be enjoyed all year round. Whether it's a cozy winter gathering around the warmth of the oven or a summer party under the stars, our pizza ovens are designed for any season. They're not just a thoughtful housewarming gift; they're a gift for every occasion.
Make Your Gift Memorable with Fontana Forni
Choosing a Fontana Forni pizza oven as a housewarming gift is a decision that speaks volumes. If you're looking to make a lasting impression, to give a gift that will be the highlight of the housewarming party, and to provide a source of joy for years to come, look no further than Fontana Forni. Visit our website today to explore our exquisite collection of handcrafted pizza ovens and find the perfect match for any new homeowner.
---

40+ Years of Innovation | 100% Made in Italy
Built to Last | Superior Design & Construction