Gluten-Free Steak Sandwich Recipe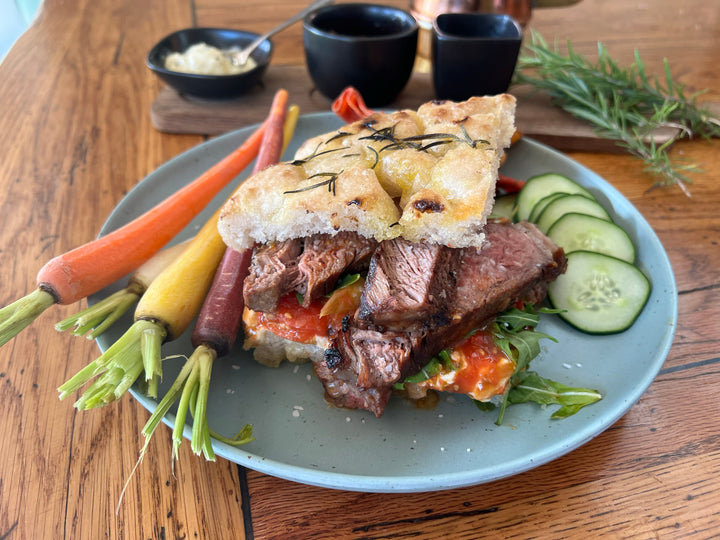 Pat Lafrieda's signature steak sandwich is an absolute must at the US Open with it's fresh baked bread and choice meat. They sell about 500 each day at the event! This weekend we were inspired by Carlos Alcaraz's win. It inspired us to make a sandwich built for a champion! But not everyone can enjoy a fluffy focaccia so we whipped up a gluten-free version that is sheer bliss. Then we slathered it in a roasted tomato spread and garlic aioli with fresh arugula. Serve it up (get it!) with chips and a side of crisp veggies to complete this satisfying meal. Here's how to pull it all together!
Ingredients:
1 ribeye steak (about 2" inches thick)
Kosher salt
1 large container of cherry tomatoes (halved)
1 head of fresh garlic
4 cloves fresh garlic with peel
Olive oil
3 Tablespoons red wine vinegar
1 large onion (Diced)
¼ cup mayonnaise
Fresh arugula
Fresh rosemary
Gluten-free focaccia bread (recipe here)
Directions:
Prepping Tomato Spread
1.) Preheat oven to 600°F and then warm sauce pan in oven.
2.) Drizzle oil onto pan and place diced onion into the pan to begin sauté. The pan then goes back into the oven and is removed for stirring to finish the onions. 
3.) Once translucent, add diced tomatoes to the pan as well as 4 cloves of garlic (without removing skins), mix thoroughly, and place back into oven.
4.) Over the next 5-6 minutes, check the tomatoes occasionally and stir from time to time until peels have begun pulling from the tomatoes.
5.) Add the vinegar and rosemary then stir and place back into oven. 
6.) Cook the tomatoes for about 3 minutes and then remove from the oven, sprinkle with salt, and allow to cool.
Making the Steak and Roasted Garlic Aioli
1.) Allow the steak to come to room temperature (approx. 20 mins) and pat dry. 
2.) Cut 1 head of garlic in half without removing the skins.
3.) Preheat oven to 750°F and then preheat a large skillet until it reaches 400°F. 
4.) Remove skillet and add olive oil. Once the oil flows like water ( meaning it has pre-heated well), place the two halves of the head of garlic (cut side down) into the oil.
5.) Top the steak with salt to taste and place into the pan. Then put back into the oven. The skins of the garlic will burn, but will also protect the cloves themselves. 
6.) After approximately 3 minutes, flip the steak and place back into oven. After 3 more minutes, remove skillet from oven.
7.) Quickly, remove garlic as well as steak from skillet.
8.) Wrap the steak in aluminum foil and allow to rest for 5-10 minutes. 
9.) While the steak is resting, remove all of the cooked garlic from the roasted halves. In a small bowl, use a fork to mash garlic, and mix with the mayonnaise.
10.) Assembling the sandwich can vary from person to person, but we like to slice the focaccia open faced and begin topping. Place a nice helping of the tomato spread on one half, and garlic aioli on the other.
11.) Slice steak and lay on the sandwich as well as a bed of fresh arugula.  Stack and enjoy!
Buon Appetito!
Subscribe to our YouTube channel for more videos! 
Follow us on Instagram and tag us with your culinary magic! We would love to see how you make this recipe!
---

40+ Years of Innovation | 100% Made in Italy
Built to Last | Superior Design & Construction