Gluten-Free Focaccia Bread Recipe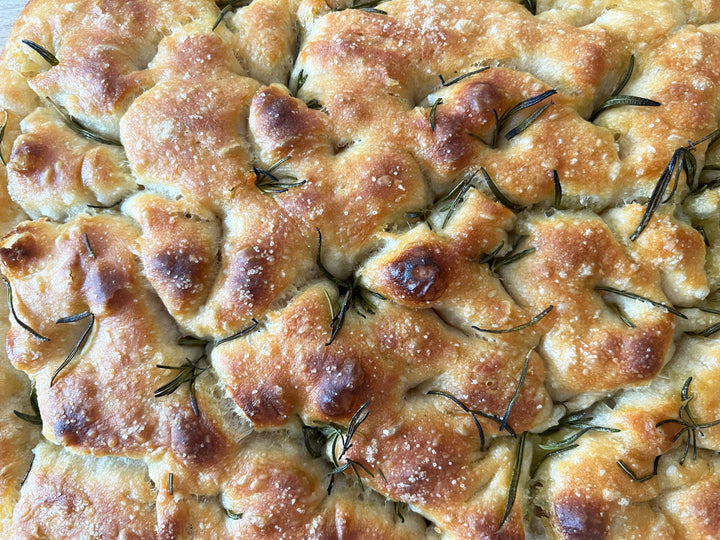 Our wood-fired ovens take a simple focaccia bread to the next level! You get just the right amount of smokey flavor and the perfect crispness that you won't achieve in a regular convection oven. Topped with flaky sea salt and fresh herbs you can enjoy it alone, start building amazing sandwiches or dip it into a hearty fall soup. Once you master this easy recipe, the possibilities are endless.
Ingredients:
515 g

Caputo Fioreglut Gluten-Free flour

10 g

kosher salt

8 g

Fleischmann's active dry yeast (1 packet)

355 g

lukewarm water for dough

100 g

lukewarm water for priming yeast

butter for greasing

4 tablespoons

 olive oil, divided

Coarse sea salt

2

 sprigs of fresh rosemary

1 g

Sugar for feeding yeast
Directions:

Prepping/Priming the Yeast
1.) Take 100 g of lukewarm water and whisk in the (1g) sugar and 8g of yeast.  
2.) Allow to sit for 15 minutes and make sure that it begins to bubble.
Making the Dough
1.) In a large mixing bowl, whisk together the flour and salt. Slowly begin adding the water and primed yeast (455g total).
2.) Using a Danish dough hook, mix until it is evenly distributed and you have generated a nice sticky dough ball. 
3.) Evenly coat a bowl with olive oil and transfer the dough ball to the bowl.  Lightly rub some olive oil onto the surface of the dough ball. 
4.) Cover the bowl and transfer immediately to the refrigerator. Leave in the refrigerator for 24-48hrs.
5.) Use some butter to coat a 9x13 pan. Then pour in 2 tablespoons of olive oil.
6.) Using your oiled fingertips (or dough scraper), begin scraping the dough off the walls of the bowl and pushing it towards the center. 
7.) Once you have removed the dough from the walls of the bowl, punch down and then lay in the pan. Slightly press down into oil and allow to sit for 3-4 hours.
Cooking the Dough
1.) Preheat your oven to 600°F. 
2.) During this time, remove the leaves of rosemary from the branches and soak them in about 1 tablespoon of olive oil.
3.) Pour mixture onto the dough and coat with hands. Once evenly coated, use your fingertips to slowly press into the dough to create indentions. It may be necessary for you to stretch the dough whilst pressing to fill the pan.
4.) Top with coarse salt and then cover pan with aluminum foil.
5.) Once heated to 600°F, remove heat source (if gas, turn flame off; if wood, remove coals) and close off the damper and door.
6.) Once oven temp reaches 525°F, place the pan into the oven and close the door.
7.) While the oven is cooling off, the median cooking temperature should approximately be 425°F. 
8.) After 15 minutes, remove the aluminum foil and allow to bake for another 15-25 minutes or until adequately browned.
9.) Once baked to your liking, remove the pan and transfer to a cooling rack to cool.  After about 10 minutes or so, it can be removed from the pan to begin cutting and serving. (Note: If you're going to make sandwiches, allow the bread to cool before cutting in half.
Buon Appetito!
Subscribe to our YouTube channel for more videos! 
Follow us on Instagram and tag us with your culinary magic! We would love to see how you make this recipe!
---

40+ Years of Innovation | 100% Made in Italy
Built to Last | Superior Design & Construction