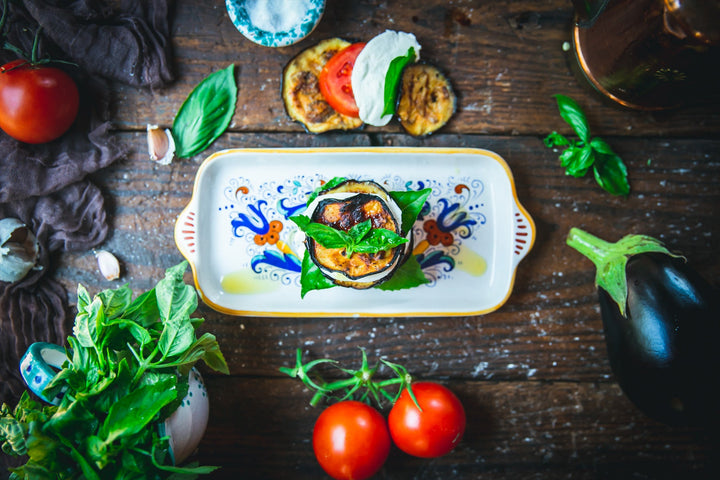 Torrette di Melanzane
Recipe:
There is nothing quite as refreshing and inviting during the hot summer months as these delicious Torrette di Melanzane prepared with seasonal eggplant from the garden.  Grilled slices of aubergine, fresh, red, plump tomatoes and delicious mozzarella are stacked on top of each other creating a beautiful presentation.  Drizzled with good olive oil and balsamic vinegar, these Torrette are quick to prepare, and most satisfying to eat when accompanied with fresh, crunchy bread.  Don't forget freshly picked basil!  Enjoy!
Supplies:
 Ingredients:
2 medium eggplants
1-2 garlic cloves minced
3 mozzarella balls
4 round, very ripe seasonal tomatoes 
20 basil leaves fresh from the garden 
Extra Virgin Olive Oil
Salt to taste
Balsamic vinegar glaze
Basil leaves for garnish 
Directions:
Preheat the Mangiafuoco Gas Oven to 375°F - 190.5°C.  Place the cast iron grill inside the oven to preheat.  
Slice the eggplants, tomatoes and mozzarella into rounds of about 1/4" thickness.
Finely mince the garlic into a small bowl.  Add about 2 tablespoons of olive oil and a pinch of salt.  This will be brushed on the eggplant when it is flipped on the grill. 
Carefully remove the cast iron grill from the oven and arrange the sliced eggplant on top.  Place the grill back in the oven and partially close the door.  Allow the slices to grill for about 5 minutes before flipping them over.  Make sure to keep an eye on the eggplant slices, as they are getting heat from both the top and bottom of the oven.
After about seven minutes, or when the face of the eggplant is golden, carefully remove from the oven.  Brush the garlic and olive oil mixture on the eggplant and flip to grill once again on the other side.    
While the eggplant is grilling for an additional 5  minutes, set up the assembly line of tomatoes, mozzarella and basil.  
Once the eggplant is cooked through, carefully remove them from the oven.  
Choose a serving dish and place the first slice of eggplant on the bottom.  Follow with a slice of mozzarella, a slice of tomato sprinkled with a little salt, and finally a fresh basil leave.  Keep stacking in the same order until a Torretta di Melanzane is created.  
Drizzle good olive oil over the top as well as some delicious balsamic vinegar.  
Delicious when served immediately, but also incredibly good when allowed to rest for a while.  Serve with fresh bread.  Enjoy!
Buon Appetito!
Subscribe to our YouTube channel for more videos! 
Follow us on Instagram and tag us with your culinary magic! We would love to see how you make this recipe!
---

40+ Years of Innovation | 100% Made in Italy
Built to Last | Superior Design & Construction