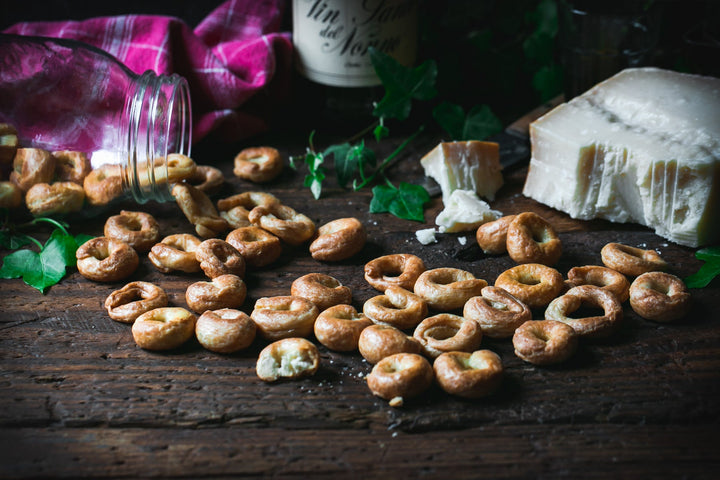 Tarallucci
Recipe:
Tarallucci are an irresistible southern Italian snack that is so easy to make at home, and a fun family affair when working together in the kitchen.  Everyone can help and the result is a delicious, light, crunchy cracker simply made with flour, olive oil, white wine, and spices or herbs of personal choosing. Certainly a great addition to an antipasto, a charcuterie board or simply as a cracker.  Let's get started!
Supplies:
Baking pan
Clean dish towel
Parchment Paper
Ingredients:
500 grams 00 flour - Farina per pane Denti 17.63 oz (All Purpose flour is also a good option)
9 grams salt
125 ml olive oil - 4.22 oz             
225 ml white wine - 7.60 oz
Little over 1/2 teaspoon baking powder 
Cayenne pepper - 1/4 teaspoon 
Herbs of your choosing - rosemary, fennel seeds, etc. 
Directions:
Preheat the Fontana Gusto wood-fired oven to 356°F - 180°C 45 minutes before baking. 
Mix the flour, baking powder, salt and the olive oil with your hands until the fat is well incorporated.  The mixture should have

 

a sandy appearance.  (In the video we had a little 2 year old helper, and the process of mixing went a little quicker than usual.  Just make sure to incorporate the flour and oil very well before adding the wine) 
Make a well in the center of the flour mixture and pour in the wine.
Work the dough and knead for about 9-10 minutes.
Cover and allow to rest for thirty minutes on the countertop.
With the help of a scale, measure out small pieces of dough weighing about 8 grams each. 
With the palm and fingers of both hands, roll each portion out into small rope like sections measuring each about 8 cm, and with a thickness of about 1 cm. 
Bring the ends of the dough together creating a circle.  Gently pinch the ends together as you lay one end on top of the other.
When all have been shaped, drop them into boiling, salted water just until they come to the surface. Scoop them out with a wire strainer and transfer them on a clean dish towel.  Make sure the dish towel has no detergent scent. 
Allow the tarallucci to dry for about 2-3 hours. 
Once the oven has reached temperature, 356°F - 180°C, cover the baking sheet with parchment paper. 
Transfer the tarallucci from the dish towel onto the parchment paper.  They may stick a little but gently peel them off. 
Bake for 35-40 minutes with the convection fan feature until golden brown. Watch them frequently as they should not get dark brown.  The last 15 minutes of baking turn off the heat and crack the door open to allow the steam to escape and the tarallucci to dry.
Remove from the oven and place them on a cooling rack.  The tarallucci are now ready to be served.  Perfect when enjoyed with some cheese, cold-cuts or just simply as an irresistible snack. Enjoy!
Buon Appetito!
Subscribe to our YouTube channel for more videos! 
Follow us on Instagram and tag us with your culinary magic! We would love to see how you make this recipe!
---

40+ Years of Innovation | 100% Made in Italy
Built to Last | Superior Design & Construction