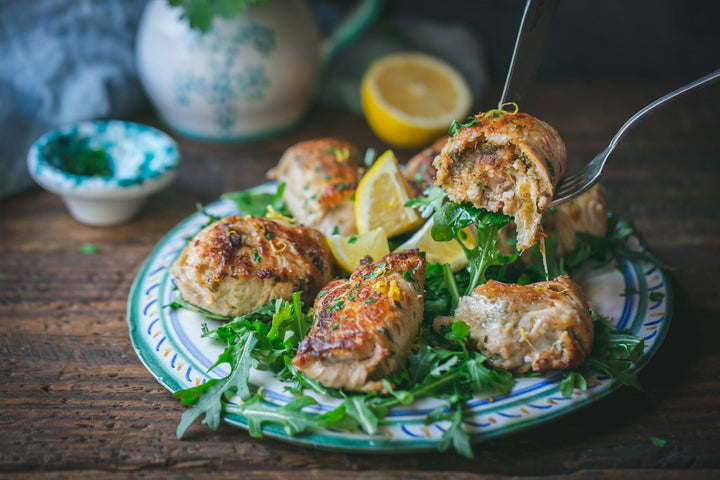 Swordfish Involtini
Recipe:
Swordfish Involtini are a mouthwatering, traditional Sicilian specialty that can be prepared either on the stove top or in the oven.  Traditionally this delicious SECONDO - main course, is prepared with fresh swordfish caught right in the Stretto di Messina, which is the body of water between the Island of Sicily and the main land of the boot of Italy.  When the fork and knife split open each spiedino, it will uncover a stuffing filled with the aroma of herbs, capers, lemon zest and cheese.  This flavorful dish is so simple to prepare and will certainly become a loved entrée for any occasion. Let's get started!
Supplies:
Ingredients:
372 grams swordfish - very thin slices
18 grams butter
75 grams breadcrumbs
40 grams mozzarella - you can also use Parmigiano, Grana, Scamorza or Pecorino
Small bunch of parsley
1 sprig rosemary minced
2 sprigs fresh oregano minced
1 sun-dried tomato
1 teaspoon capers
1 small clove garlic minced
A pinch of black pepper or white pepper
Salt to taste
Zest of one lemon
Lemon wedges to serve with the involtini
Arugula 
Directions:
Preheat the Mangiafuoco Gas Oven to 375°F-400°F - 190°C-204°C.
Slice the swordfish into about 1/4 inch slices. Very gently "pound" each slice with a meat mallet to stretch them out a little further.  Make sure to do this very carefully as to not damage the fish fillets.
Chop the parsley and mince the rosemary, garlic and oregano as well as the capers and the sun-dried tomato. 
Add the zest of one lemon and mix together all the chopped and minced ingredients with the breadcrumbs. 
Season with salt to taste.  Do not over-salt as the capers are already salty. 
Add about 1 1/2 tablespoon of olive oil to the breadcrumbs until it is moist enough to hold together.    
Once everything is prepped, spoon about a tablespoon of the seasoned breadcrumbs on each flattened swordfish fillet.  Add a small dollop of butter and 2-3 pieces of mozzarella over the small mound of breadcrumbs.  
Gently roll up the fish into a small package.  Continue with the rest of the swordfish fillets.
Sprinkle each package with a little bit of salt. 
Drizzle olive oil into a preheated skillet.
Once all the fish packages are ready, transfer them in the skillet with the sealed part down.  
Place them in the oven and allow them to cook for 2-3 minutes on one side .  
After about 2-3 minutes, gently turn them over and allow them to cook for an additional 5 minutes.  
Once the swordfish involtini are golden brown, they are ready to be served.  We chose to place them on a bed of arugula with an addition of freshly chopped parsley.  Enjoy! 
Buon Appetito!
A BIG thank you to our dear friends Lisa, Brandy and Wendy for sending us this delicious swordfish! 
Subscribe to our YouTube channel for more videos! 
Follow us on Instagram and tag us with your culinary magic! We would love to see how you make this recipe!
---

40+ Years of Innovation | 100% Made in Italy
Built to Last | Superior Design & Construction