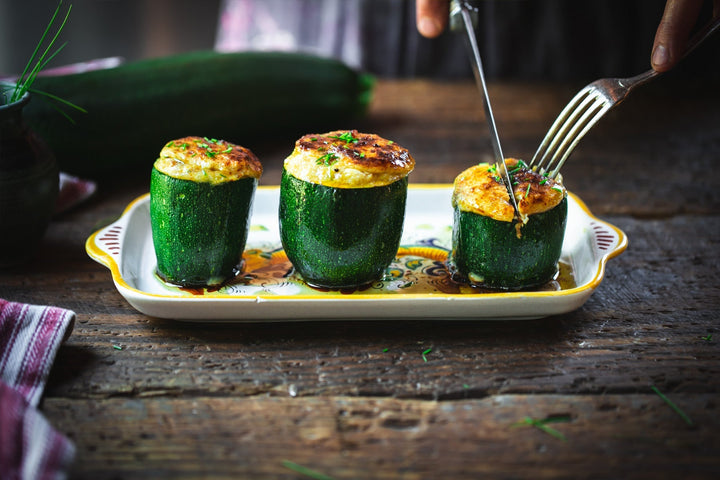 Stuffed Zucchini Soufflé
Recipe:
Stuffed zucchini soufflé are not only a perfect side dish, but also a great appetizer.  These small morsels of goodness are simply filled with flavorful sautéed ingredients, as well as a perfect medley of cheese, bacon and eggs.  To make this delicious experience complete, the zucchini are finally baked in the wood-fired oven.  Let's get started!
Supplies:
 Ingredients: 
4-6 zucchini depending on the size - medium zucchini are better than large, but large is all we had available
1 large yellow onion
100 grams bacon cut up - omit the bacon for a vegetarian dish
150 grams grated Parmigiano Reggiano 
Small cubes of Camembert or any cheese of your choosing
Small bunch of chives - reserve some for garnish
3 eggs separated
20 grams All Purpose flour
30 grams milk or heavy cream
Salt to taste 
Cayenne pepper to taste 
Directions:  
Preheat The Marinara Pizza Oven to 375°F - 190°C.  
Wash the zucchini, remove both ends, and cut each into thirds.
With the help of a small spoon or a melon baller, carve the zucchini into thirds making sure not to puncture the sides or the bottom. 
Place a small cube of Camembert or cheese of your choosing in the bottom of each hollowed zucchini, and arrange each piece on a pan that has been drizzled with olive oil.  Set aside.
Chop up the zucchini balls that have been carved out. 
Place the bacon into a preheated pan and allow to sizzle in the oven for a minute or two, before adding the chopped onions.  Add the onions and allow to sauté.
When the onions are translucent and begin to slightly caramelize, introduce the chopped zucchini.  Place the pan back into the oven until soft and lightly caramelized.  Remove from the oven and allow to cool completely.
Divide the eggs into two separate bowls.  Whisk the egg yolks until creamy with a hand held mixer.  Sift the flour over the egg yolks and add a splash of milk.  Whisk until well emulsified. 
Mix in the grated Parmigiano Reggiano, the chopped chives and the cooled zucchini, onions and bacon.  Set aside.
In a separate bowl whisk the egg whites until soft peeks form. 
Gently fold in the egg whites with the rest of the ingredients. 
Spoon the filling into each hollowed zucchini and transfer the pan into the preheated oven.  Bake for about 35-40 minutes or until fork tender and the filling is golden brown.  Protect the top of the zucchini with foil if it browns too quickly. 
Remove from the oven once the soufflé's are nice golden brown.  Serve and enjoy! 
Buon Appetito!
Subscribe to our YouTube channel for more videos! 
---

40+ Years of Innovation | 100% Made in Italy
Built to Last | Superior Design & Construction