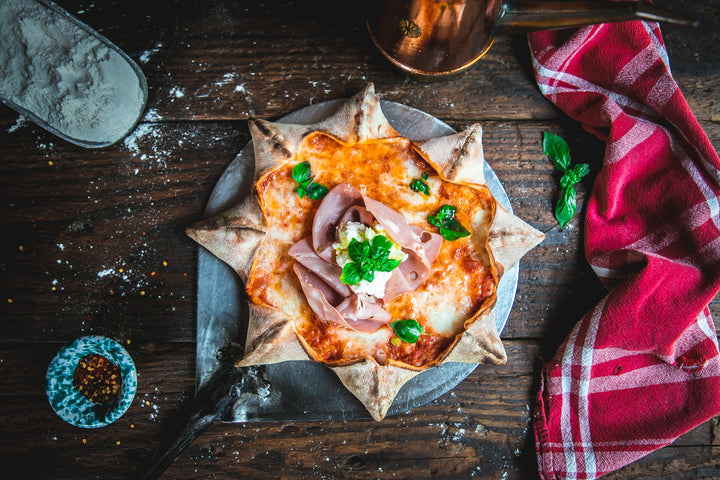 Stella Napoletana 
Recipe:
A Star shaped PIZZA is just an original way to prepare and present this globally famous, and most loved Italian staple in a slightly different way.  No doubt that the Stella di Napoli will most certainly be a show stopper, when the piping hot Pizza Star is pulled out of the wood-fired oven.  With just a few slits and a little pinching, we can elevate this iconic Neapolitan dish to a new level and totally make it shine.  Let's get started!
Supplies:
 Ingredients: 
Neapolitan Pizza dough  or pizza dough with pasta di riporto
Tomato sauce - we use San Marzano tomatoes and then crush them.  Add a little sugar and salt to taste.
Fresh mozzarella balls - one per pizza 
2-3 slices of mortadella per pizza
Olive oil
Salt to taste 
Cayenne pepper
Basil 
Directions:  
Preheat Marinara Pizza Oven to 750°F - 400°C  (Preheat the oven to 850°F-900°F - 454°F - 482°C if using the SAPUTO stones from Naples, Italy).
Stretch the dough by hand on a well floured work surface, or use the rolling pin to get the job done. 
Cut small slits (about 1") all around the circumference of the dough, as shown in the video.
Spread the tomato sauce evenly and in circular motion all over the surface of the dough.
Place some mozzarella around the outer edge of the pizza as well as in the the center. 
Drizzle with olive oil and dust with some cayenne pepper and then begin to shape it into a star.  Simply grab each section that has been cut, bring the corners together and begin to pinch, as shown in the video.  Do the same with each section until the pizza resembles a star.
Check the temperature of the oven floor with the infrared thermometer.
Slide the perforated peel under the star and transfer the pizza into the wood-fired oven.  With the help of the turning peel rotate the pizza for even baking. 
Remove the pizza from the oven and arrange 2-3 slices of mortadella in the center of the star as well as some fresh mozzarella or burrata.  And VOILÀ, the star is ready to shine and be served.  Enjoy!  
Buon Appetito!
Check out our YouTube channel for more videos! 
---

40+ Years of Innovation | 100% Made in Italy
Built to Last | Superior Design & Construction