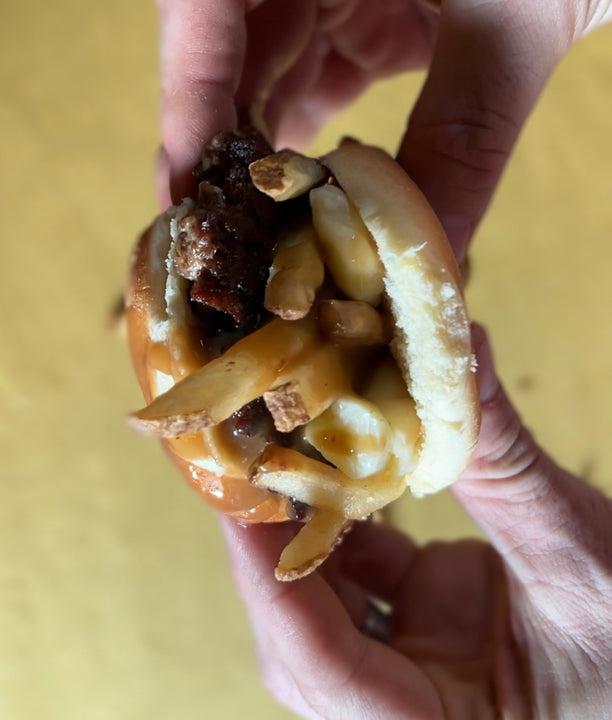 Poutine Smash Burger (Poutine on the Ritz)
INGREDIENTS:
French Fries
Gravy (store bought, or made at home)
                  2 Cups Beef Broth
                  3 tsp Garlic Powder
                  2 tsp Onion Powder
                  3 Tbsp Corn Starch
                  ¼ Cup Water
Wisconsin Cheese Curds
Buns
Poutine is a dish that Canadians have perfected.  It involves topping French Fries with cheese curds and gravy.  It's a messy dish, but fantastic.  Why not combine it with our American obsession?

Either prepare or purchase some French Fries (the crispier the better in my mind) and make sure that they are ready for your burger.  You can prepare a simple gravy, or just use a store bought one.
Simple Gravy Recipe
In a medium saucepan, take 2 cups beef broth and bring to a boil.  Stir in 3 teaspoons of garlic powder and 2 teaspoons of onion powder.  Separately, dissolve 3 Tbsp corn starch in a quarter cup of water and then pour into boiling broth.  Stir until thickened mixing in salt and black pepper to taste.
Preheat Oven to 600-650 and then place a cast iron skillet inside oven to preheat.
Separate the Ground chuck into beef balls.  Safely and partially remove skillet from oven and place beef balls on skillet.  Smash with a spatula until evenly flattened (you may want to use a piece of parchment paper between spatula and beef to keep them from sticking together).  Salt beef generously and slide back into the oven.  Within 1-2 minutes, the beef will have begun browning on the skillet.  Once desired browning has been reached, flip the patties and cook for another minute.  Remove patties and place on toasted buns.  Top with HOT French Fries, Cheese Curds, and pour gravy over the top.  Finish off with the top bun and ENJOY
---

40+ Years of Innovation | 100% Made in Italy
Built to Last | Superior Design & Construction