Pennoni with Sausage and Porcini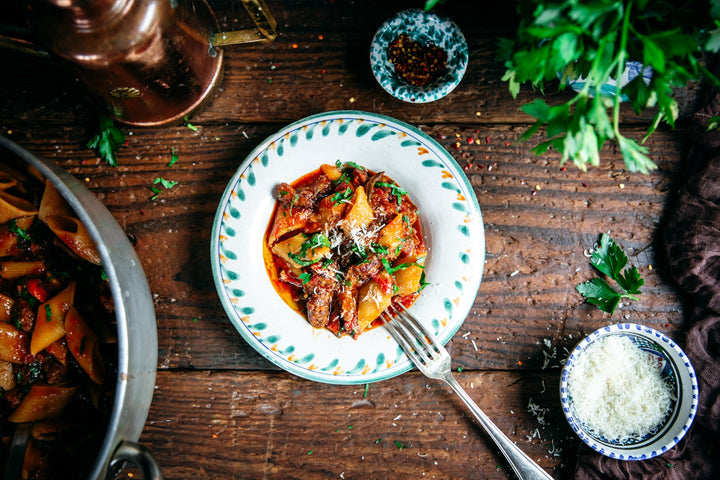 Pennoni with Sausage and Porcini
Recipe:
Pennoni with Italian sausage and porcini mushrooms, is a pasta dish that will certainly make its way back to the table over and over again.  A true symphony of flavors is experienced when the pennoni are tossed in a rich and hearty tomato sauce, slowly cooked in the pizza oven as it is slowly married with porcini and Italian sausage.  Let's get started!
Supplies:
 Ingredients: 
450 grams Pennoni (large penne) or any other pasta shape of your choosing
250 grams cherry tomatoes halved
12 oz can San Marzano whole, peeled tomatoes 
550 grams Italian sausages - we prefer without fennel seeds
3 Tablespoons olive oil and some more to drizzle on the plated dish
2 small yellow onions minced
4 cloves garlic minced 
1 stick celery minced
1 large carrot minced
35 grams dehydrated porcini mushrooms - rehydrate in warm water
150 grams white wine 
1 bunch fresh parsley chopped
1-2 sage leaves
1-2 bay leaves
1-2 rosemary sprigs
Parmigiano Reggiano grated
Salt to taste
Black pepper to taste
Cayenne pepper to taste - this dish is perfect with some heat
Directions:  
Preheat Mangiafuoco Home Gas Pizza Oven to 400°F - 200°C.  
Finely mince the garlic, onions, celery and carrots.  Set the garlic aside.  Did you know that the trio of onions, carrot and celery are the famous Italian ODORI which become an essential base for many dishes?  The odori are then minced, and transformed into a SOFFRITTO as they very slowly brown in the olive oil or butter.  This combination of three vegetables brings so many dishes to a whole new level as well as adding an incredible depth of flavor. 
Drizzle olive oil in a preheated pan.  Add the minced vegetables, (odori) minus the garlic.  Allow to slowly sauté on medium low heat, as it begins to soften and gently brown in the fat.  Do this until soft and slightly golden brown.  This will take at least 10 minutes.  Totally worth a bit of patience. 
Make a "bouquet" with the sage, rosemary and bay leaf, as shown in the video.  Wrap with cooking twine to infuse the sauce with flavor without getting the herbs loose.
Once the veggies have softened and begun to brown, add the garlic, cayenne pepper, black pepper, herb bouquet and sausage.  Place back in the oven, until the sausage has turned a deep golden brown. 
Add the cherry tomatoes to the pot, allowing them to cook down and become very flavorful. 
Pour in the wine, allowing it to 'sfumare' or cook out. 
Add the crushed tomatoes, as well as the diced porcini mushrooms and the mushroom water.  Make sure to strain the water as sometimes it contains just a little grit from when they were picked. 
Chop the parsley and add the minced stems to the sauce.  Parsley stems are also full of flavor.   
Throw the pasta into salted boiling water until it is 'al dente'.  
With the help of a hand strainer remove the pasta and add it directly to the sauce.  Pour a ladleful or two of the cooking water to the sauce and finish cooking while stirring constantly.
Spread the chopped parsley over the top and immediately plate the pasta.
Garnish with some more parsley and a good dusting of Parmigiano Reggiano.  Finish everything off with a nice drizzle of good extra virgin olive oil.  Enjoy!
Buon Appetito!
Check out our YouTube channel for more videos! 
---

40+ Years of Innovation | 100% Made in Italy
Built to Last | Superior Design & Construction