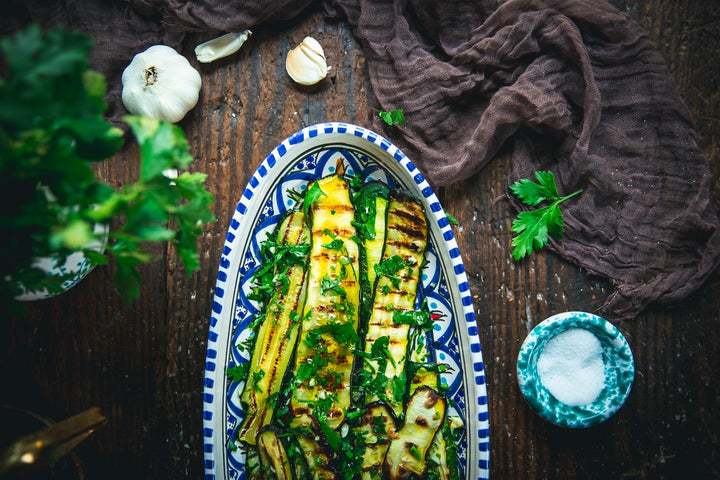 Grilled Zucchini 
Recipe:
Grilled zucchini are a perfect vegetable to enjoy when they are in season.  With just a few simple steps a delicious, healthy and full of flavor side dish is prepared in no time at all directly inside the pizza oven.  Perfect when layered on a crunchy slice of bread, delicious when added to a sandwich, simply amazing when placed on a pizza bianca, or tossed in a cold pasta salad.  Let's get started!   
Supplies:
 Ingredients: 
3 zucchini
2-3 garlic cloves
Small bunch of parsley chopped 
Olive oil  
Salt to taste
Cayenne pepper, optional
Directions:  
Preheat The Mangiafuoco Home Gas Pizza Oven to 375°- 400°F - 190.5°- 204°C.
Preheat the cast iron grill in the oven.
Slice the zucchini longways into strips of about 1/4th inch, as shown in the video.
Chop the parsley and garlic and set aside. 
Arrange the strips of zucchini on the preheated cast iron grill and place  it back into the oven. 
Allow the zucchini to grill for about 8 minutes, and then flip the slices. 
Once both sides have good grill marks, remove from the oven.
Begin layering the zucchini, parsley, garlic, salt and olive oil.   
Continue layering until all slices are gone.  Serve with bread, as a side dish, in a sandwich, over a pizza bianca, or simply tossed in a cold pasta salad.  Enjoy!
Buon Appetito!
Check out our YouTube channel for more videos! 
---

40+ Years of Innovation | 100% Made in Italy
Built to Last | Superior Design & Construction