Stuffed Dates wrapped in Bacon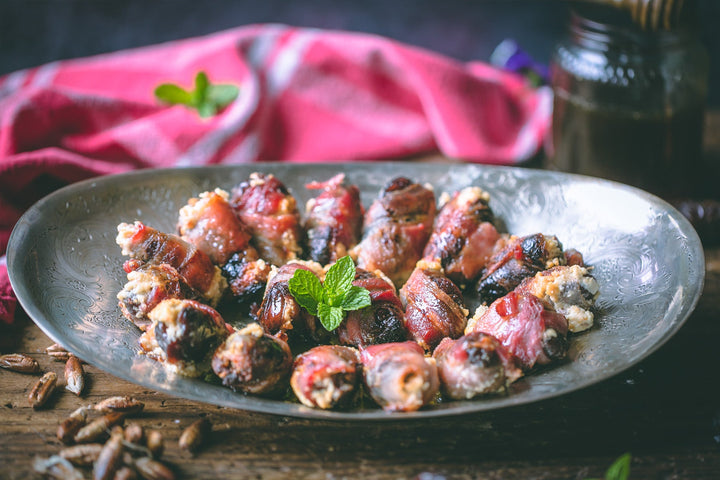 Stuffed dates wrapped in bacon
Bacon wrapped Dates filled with Goat cheese are a delectable and perfect appetizer for any occasion. What a delicious morsel of pure goodness this trio becomes when baked in the wood-fired oven. As soon as you take the first bite you are taken aback by the slightly crisp outer caramelized bacon, followed by the soft melted cheese and the gooey sweetness of the dates.  What a perfect combination of savory, creamy and sweet flavors accompanied by a crispy texture. A true symphony of delicious flavors. Definitely a dish you will be proud to serve no matter the occasion or time of year.
Let's get to work!
Recipe:
Supplies:
Fontana wood-fired oven
Infrared thermometer
Baking dish
Ingredients:
18 dates
170 grams goat cheese
9 strips of bacon
1 Tablespoon honey
Directions:
Preheat oven to 375°- 400°F  -  190°- 204°C
Pit each date and butterfly it by cutting down the middle longways.
Mix goat cheese with a drizzle of honey.
Place a spoonful of goat cheese in each date.
Wrap with half bacon strip.
Place in oven safe baking dish.
Bake for about 20 minutes until bacon is crispy.
My husband took me out on a special date last week, and he ordered these morsels of goodness as an appetizer. Oh my goodness! Totally fell in love!!! Now what are you waiting for? Go to the store and pick up some good dates, goat cheese and bacon. Prepare them, and surprise your family and friends with these full of flavor bites. Let us know what you think. 
Buon Appetito!
Subscribe to our YouTube channel for more videos! 
Follow us on Instagram and tag us with your culinary magic!
@FontanaForniusa   #fontanaovens
---

40+ Years of Innovation | 100% Made in Italy
Built to Last | Superior Design & Construction