Fried Polenta Crostini with Cavolo Nero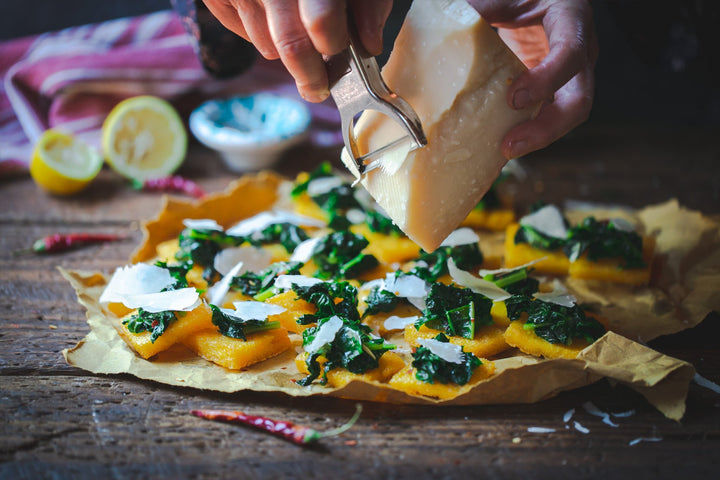 Fried Polenta Crostini with Cavolo Nero
Recipe:
Fried Polenta Crostini are a wonderful appetizer for any occasion.  Not only can they be delicious plain, simply sprinkled with some salt, but they are delicious when served with all kinds of different toppings.  Today Cavolo Nero and shavings of Parmigiano Reggiano was definitely the winner antipasto.  Simple to make, delicious, and always perfect to serve for any occasion.  Let's get started!
Supplies:
Potato peeler
Frying pans - one for the polenta and one for the Swiss chards
Stainless steel strainer
Absorbent paper
Food thermometer to check the temperature of the frying oil
Ingredients:
Polenta (recipe for polenta) 
Small to medium bunch of Cavolo Nero or Lacinato Kale 
2 cloves garlic thinly sliced
Cayenne pepper flakes to taste
Parmigiano Reggiano shavings for topping
Salt to taste
Olive oil
Fresh lemon juice
Frying oil of your choosing
Directions:
Preheat the flattop griddle of the Wood Fired Pizza Oven
Remove the polenta from the refrigerator where it has been chilled overnight.  Cut the polenta into either squares, triangles or small rounds. 
Place the frying on the flattop of the Wood Fired Pizza Oven, and heat the oil to fry the polenta.  The temperature of the oil should be around 165°-180°C - 329°-356°F. 
Carefully place each piece into the hot oil and fry for two to three minutes on each side.  With a strainer remove the polenta from the oil and place it on a food safe absorbent paper to remove excess oil. 
Drizzle some olive oil into a separate preheated skillet.  
Add the thinly sliced garlic cloves and hot pepper flakes.  Sauté for a few seconds making sure not to brown the garlic.
Place the washed and chopped Cavolo Nero into the hot skillet over the garlic.  Make sure the greens are still wet when you place them into the pan, as this extra moisture will allow to steam them.  Cover with a lid and allow it to cook down for about 7 minutes, stirring occasionally.
Once the Cavolo Nero have wilted, remove them from the heat.  
Top each fried piece of polenta square (we chose to cut them into small squares) with a small mound of the greens.  
Squirt them with fresh lemon juice and with the help of a potato peeler shave flakes of Parmigiano Reggiano over each small morsel of goodness.
Our fried polenta crostini with Cavolo Nero and Parmigiano Reggiano are now ready to be served. Enjoy!   
Buon Appetito!
Subscribe to our YouTube channel for more videos! 
Follow us on Instagram and tag us with your culinary magic! We would love to see how you make this recipe!
---

40+ Years of Innovation | 100% Made in Italy
Built to Last | Superior Design & Construction