Fennel and Orange Salad with Toasted Almonds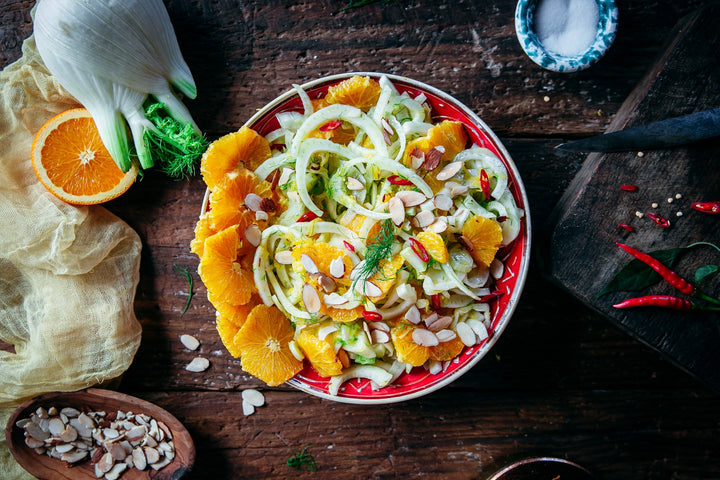 Fennel and Orange Salad with Toasted Pine Nuts
Recipe:
Fennel and orange salad is a popular Sicilian dish loved throughout Italy. Quickly put together, this delicious, refreshing vegetarian and vegan salad is not only a dish filled with flavor and textures, but also a great boost of vitamin C.  Drizzled with excellent extra virgin olive oil this delicious salad will certainly become a favorite to serve especially during the season when fennel and oranges are in season. Let's get started!
Supplies:
Ingredients:
2 heads of fennel
3-4 medium oranges
3 Tablespoons extra virgin olive oil
30 grams shaved almonds - toasted
Salt to taste
Fresh cayenne pepper for garnish (optional)
baking soda
Directions:
Preheat the Fontana Gas Pizza Oven to 350°F - 176°C.
In a bowl pour the olive oil, the juice of one orange, and salt to taste.  Whisk everything together until creamy and well emulsified.
With a mandolin or sharp knife, slice the fennel into thin slices. Reserve some of the fronds for garnish and mince the rest to add to the salad.  
Place the cut fennel into a bowl, cover with water that has been mixed with one teaspoon of baking soda.  Leave the fennel soaking for about 10-15 minutes.                                                                                                         Just a note of interest: Baking soda is very effective in cleansing and removing impurities from fruits and vegetables. Some studies show that baking soda mixed in water can remove up to 96% of pesticides still possibly present in fresh ingredients we purchase commercially.  How is this possible?  Baking soda has a high alkaline pH.  When in contact with the harmful molecules of the pesticides, it neutralizes and crushes them transforming the molecules into harmless ones. 
Rinse the fennel through a colander and combine toss it with the orange juice and olive oil mixture.     
Slice the oranges into small bitesized wedges and add them to the fennel.
 Place the shaved almonds on a pan and slide into the preheated gas oven for about 5 minutes or until slightly golden. This is how the oils are released and the natural flavor of the almonds intensifies.  Make sure to toss the almonds several times during the process of toasting.  They will have a slightly toasted appearance. 
Plate the fennel salad and garnish with the toasted almonds and some of the fennel fronds.
Thinly slice the fresh, red cayenne pepper to garnish the salad.  Pomegranate seeds are also a gorgeous and colorful addition to this dish.
The fennel salad is ready to serve!  Enjoy!
Buon Appetito!
Subscribe to our YouTube channel for more videos! 
Follow us on Instagram and tag us with your culinary magic! We would love to see how you make this recipe!
---

40+ Years of Innovation | 100% Made in Italy
Built to Last | Superior Design & Construction