Spaghetti with Clams - Spaghetti alle Vongole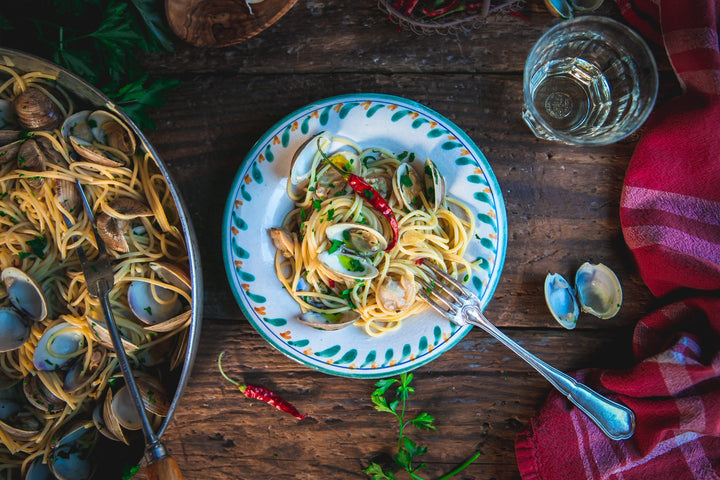 Spaghetti with Clams - Spaghetti alle Vongole
Recipe:
Spaghetti alle Vongole is a classic, much loved Italian dish served now all around the world.  Using the freshest ingredients from the sea, flat leaf parsley, cayenne pepper, the juice of a lemon,  and garlic, throw everything into a hot skillet, steam with a splash of white wine, and VOILÀ! You have a PRIMO fit for a king. 
Supplies:
Saucepan 
Bucket or bowl to purge clams
Ingredients:
2250 grams fresh clams
450-500-gram spaghetti
1/3 cup non-iodized sea salt to 1 gallon water to purge clams
2-3 cloves garlic thinly sliced
170-grams dry white wine (1/2 cup)
40-grams parsley (1/3 cup)
3 Tablespoons of olive oil
Salt to taste
Cayenne pepper to taste (15.8-oz - 17.6-oz) 
Fresh lemon juice - optional
Directions:
Preheat the  cast iron stove top of the Wood Fired Pizza Oven
Soak the clams in well salted water mixed with sea salt for about 30 minutes.  It should have the saltiness of sea water. Fresh, live clams will naturally  purge themselves and filter out all the sand and impurities. You may have to repeat this process again, using fresh salted water until the bottom of the bowl is clean.  Proceed to scrub them well with a brush and rinse off any excess salt.  Nothing ruins a good recipe more that finding yourself with a mouthful of crunchy, sandy pasta.  It is definitely worth the effort. 
Bring a large pot of water to a boil and salt.
Chop the garlic, cayenne pepper and parsley.
Once the cook stove top of the Pizza e Cucina is hot, drizzle olive oil into the preheated pan.  
Gently sauté the garlic slices, the cayenne pepper and a small amount of the parsley. 
Add the clams to the pan followed by the white wine.  Give a quick stir and immediately cover with a lid.  Allow the steam to cook the clams for about two minutes giving the pan a quick shake every 10-15 seconds.  You may want to add an additional ladle of the cooking water from the pasta water. 
Remove the pan from the heat source and discard the clams that have not opened up.
It is also optional to remove most of the cooked clams from the shells, and mixing them with the spaghetti, leaving only a few shells for garnish.
Drain the spaghetti while still al dente and stir in with the clams.    
Sprinkle in the rest of the fresh parsley over the spaghetti, and place the pan back on the heat source for all the flavors to be mixed, absorbed and marry. 
This delicious dish is ready to be served immediately accompanied by a good glass of white wine.  Enjoy!     
Buon Appetito!
Subscribe to our YouTube channel for more videos! 
Follow us on Instagram and tag us with your culinary magic! We would love to see how you make this recipe!
@FontanaForniusa   #fontanaovens
---

40+ Years of Innovation | 100% Made in Italy
Built to Last | Superior Design & Construction