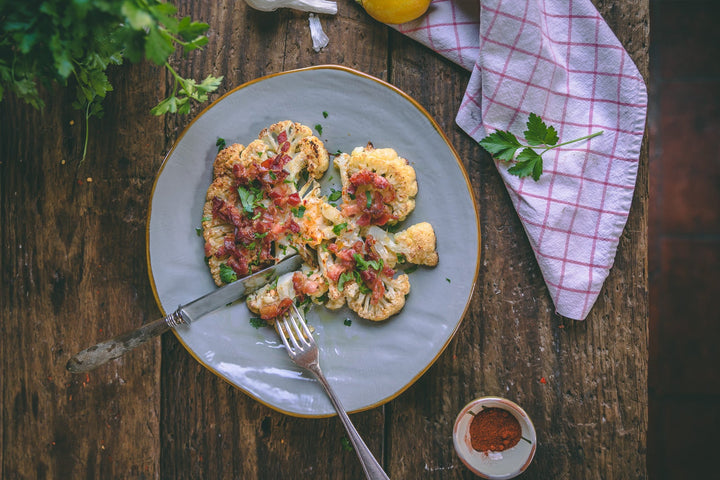 Cauliflower Steaks
Who needs a real steak when you can eat a perfectly delicious cauliflower "steak"? If you have never tasted this delicious dish you have definitely been missing out. 
Roasting these beautiful "steaks" is what we will do today. You can eat cauliflower florets raw, mashed or even boiled, but today we will be roasting this delicious vegetable in the wood-fired oven and it will totally rock your world.  Tender on the inside and perfectly crispy on the outside, this "steak" will fill your mouth with a symphony of flavors.  
Recipe:
Ingredients:
1 cauliflower 
8 oz bacon or pancetta
lemon zest from one lemon
3 large garlic cloves
red pepper flakes to taste
sea salt to taste
1/4 cup olive oil or more as needed
paprika enough to dust the top of the "steaks"
fresh flat leaf Italian parsley for garnish 
Supplies:
wood-fired oven
infrared thermometer
parchment paper
baking pan
Directions:
Remove the outer leaves at the base of the cauliflower with a sharp knife making sure to keep the large stem intact at the base. This will help keep the cauliflower slices together.

 Slice the cauliflower into 1-inch - 2.54cm "steaks" by slicing through the very middle of the cauliflower from top to bottom. (The outer slices may crumble and fall apart.  This is no problem at all, because they can still be used for yet another delicious cauliflower dish.)

Place the "steaks" gently on a baking sheet that has been previously covered with parchment paper. 
In a separate bowl crush the garlic and mix with olive oil, hot pepper flakes and salt. Brush generously over each "steak". You may need to drizzle some more olive oil over each slice.
Cut the thick bacon or pancetta into slender slivers and spread them over some of the slices.
Zest one lemon and spread over the "steaks" without the bacon. Dust all of them with paprika. 
After checking the temperature of the baking stone with the infrared thermometer, move the pan into the preheated oven 400°F - 204°C for about 20-25 minutes.
When the top of the "steaks" are nicely caramelized, take them out of the oven. You will know they are perfectly done when the center is nice and tender and the outside is crispy. After transferring them on a serving platter, top them with the chopped parsley. Serve immediately and enjoy!
Buon Appetito!
Interesting fact:
Did you know that cauliflower belongs to the cabbage family and is very rich in vitamin C? An impressive 77% in one serving! 
Leftover cauliflower can be finely chopped and tossed in a salad. What about boiling the florets and preparing them the same way you would mashed potatoes? 
Cauliflower patties are also a delicious treat. 
What is your favorite way to prepare cauliflower?
Follow us on Instagram and tag us with your culinary masterpiece! 
@FontanaForniusa #fontanaovens
@inside.our.kitchen #insideourkitchen 
---

40+ Years of Innovation | 100% Made in Italy
Built to Last | Superior Design & Construction