Swiss Chards - Contorno di Bietole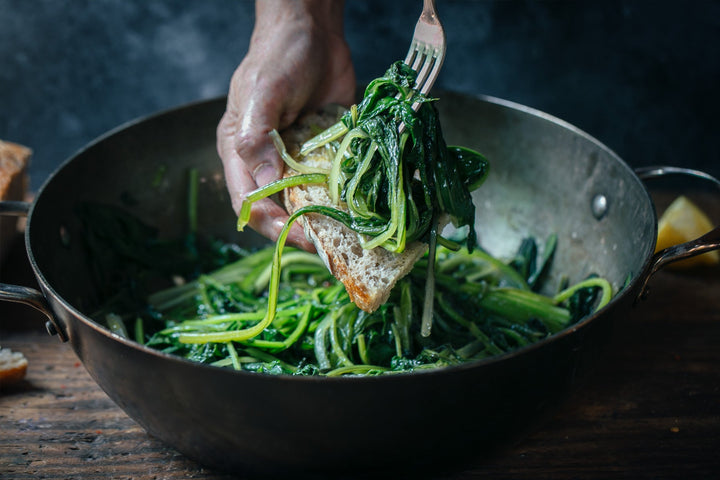 Swiss Chards - Contorno di Bietole
Recipe:
Swiss Chards, fresh bietole, are a quick and delicious side dish perfect to accompany any meal. This vegetarian CONTORNO is even better when sprinkled with fresh lemon juice and a good drizzle of olive oil. Perfect also when placed on a toasted slice of bread called bruschetta.
Supplies:
Ingredients:
Swiss Chards 2 bunches
2 cloves garlic
Hot pepper flakes to taste
Salt to taste
Olive oil
Juice of 1/4 fresh lemon
Directions:
Pre-heat the cast iron griddle surface of the Wood Fired Pizza Oven
Wash the Swiss chards or bietole really well to remove any sand.
Place the pan over the surface to pre-heat. 
Drizzle some olive oil into the pan and add the hot pepper flakes and garlic.  
Immediately add the dripping wet bietole to the pan.
Place the lid over the pan to allow the leaves to wilt.  
Once the Swiss chards are wilted and tender, remove the pan from the fire.  
Squeeze fresh lemon over the bietole and serve immediately. This is a delicious side dish or even as an appetizer simply placed over a slice of toasted bread.  Enjoy!
Buon Appetito!
Subscribe to our YouTube channel for more videos! 
Follow us on Instagram and tag us with your culinary magic! We would love to see how you make this recipe!
@FontanaForniusa   #fontanaovens
@inside.our.kitchen   #insideourkitchen
---

40+ Years of Innovation | 100% Made in Italy
Built to Last | Superior Design & Construction