Baked Red Drum with Potatoes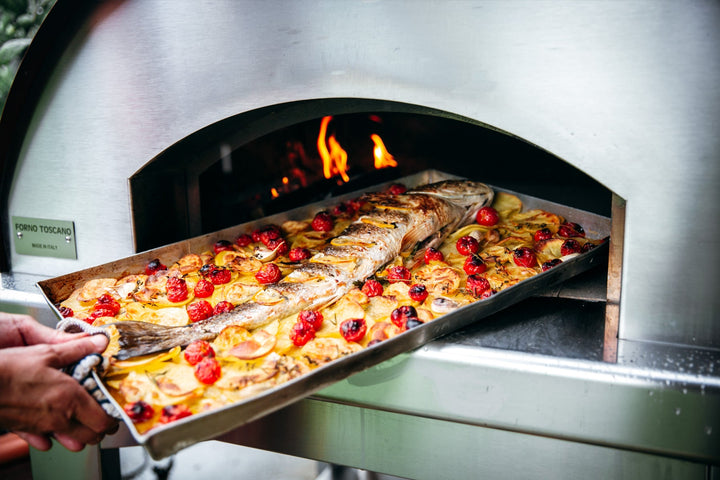 Baked Red Drum with Potatoes 
Recipe:
Fish accompanied by thinly sliced potatoes and cherry tomatoes, are an ideal and perfectly delicious meal all prepared in the Marinara wood-fired oven and in the comfort of the backyard.  The beauty of this dish is that the entire meal is prepared at once and is even brought to a different level accompanied by a beautiful, fresh salad.  Let's get started! 
Supplies:
Mandolin or sharp knife 
Potato peeler
Large baking pan 
 Ingredients:
1400 grams Red Drum fish cleaned
1 kilo golden potatoes thinly sliced
500 grams cherry tomatoes
2 lemons
1 head garlic separated with skin on - aglio in camicia
2 large cloves garlic thinly sliced
2-3 fresh rosemary sprigs
10 sprigs thyme
Small bunch parsley
150 grams white wine
100 grams water
Salt to taste
White pepper to taste
Extra Virgin Olive Oil
Directions:
Preheat the Marinara Pizza Oven to 375°-400°F.
Scale the fish by placing it in a bucket of cold water and using the back of a knife to go against the scales.  Having it in a bucket of water will ensure that scales will not go flying everywhere.  *Great tip given by our friend Aslak. 
Slice the potatoes, and coat them with olive oil and sprinkle them with salt.
Drizzle the bottom of the pan with oil.
Place the potatoes in the bottom of pan.
Thinly slice the garlic and lemon.
In the opening of the belly of the fish place five sprigs of thyme, parsley, a few lemon slices and a thinly sliced clove of garlic.  Salt and pepper the belly of the fish.
With a sharp knife make 5-6 diagonal slits on the surface of one side of the fish.
Place a slice of garlic in each slit of the fish, as well as a thin slice of lemon.
 Season everything with salt and white pepper.
Scatter rosemary and thyme over the potatoes, as well as the cherry tomatoes.
Make an opening on the pan by moving some of the potatoes to the side, and place the fish in the center of the pan.  
Arrange and scatter whole garlic cloves with the skin on all across the potatoes.
Drizzle fish with a little olive oil.
Once again, check the temperature of the oven floor with the help of your the infrared thermometer.  Place the fish inside the oven for about 35-40 minutes, making sure that there is a constant, small, active fire.    
Initially, loosely place a sheet of aluminum foil on top of the dish to prevent it from burning or drying out.  Uncover 15-20 minutes into baking.    
After 35-40 minutes, remove the fish from the oven, and serve it immediately.  Enjoy!  
Buon Appetito!
Subscribe to our YouTube channel for more videos! 
Follow us on Instagram and tag us with your culinary magic! We would love to see how you make this recipe!
@FontanaForniusa   #fontanaovens
---

40+ Years of Innovation | 100% Made in Italy
Built to Last | Superior Design & Construction