Apple, Honey and Walnut Pizza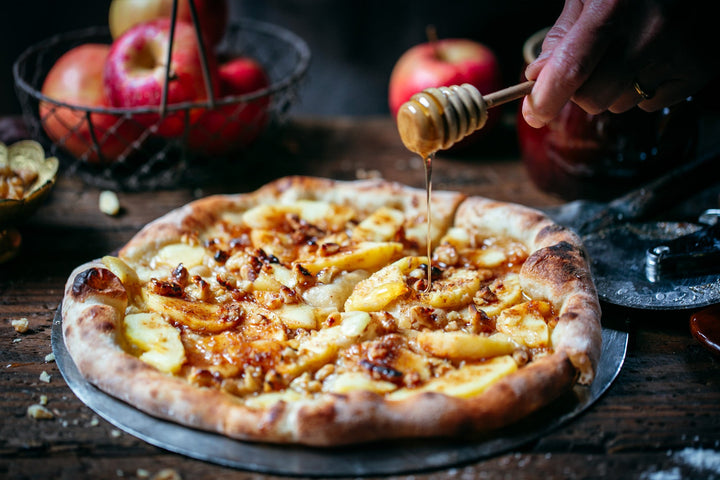 Apple, Honey and Walnut Pizza 
Hard to believe that Fall has arrived and with it the gift of delicious, fresh apples.  What a perfect combination of flavors to make a dessert pizza topped with apples, honey and walnuts.  Truly a perfect mix of flavors to welcome this season.  Let's get started!  
Supplies:
 Ingredients: 
250 grams pizza balls (we have several Pizza Dough recipes on the blog) 
2-3 apples sliced
Juice of 1/2 lemon 
60 grams walnuts
55 grams brown sugar
1/2 teaspoon cinnamon
Pinch of salt
50 grams butter
Honey 
Directions:  
Preheat The Marinara Wood-Fired Oven to 750°- 800°F - 400°- 426°C.  
Thinly slice the apples in a bowl and toss them with fresh lemon juice to keep them from oxidizing.  Set aside.  
Mix together the brown sugar, cinnamon and a pinch of salt.
On a clean flour dusted work surface, stretch the dough balls with your hands or with a rolling pin, as shown in the video.
Place slices of butter over the stretched dough.  
Sprinkle part of the brown sugar mixture over the dough and then arrange the apples on top. 
Crush the walnuts and scatter over the apples.
Finish by topping everything off with the brown sugar mix.  
Transfer the pizza in the oven, rotating it occasionally until all sides are golden brown.
Remove the dessert pizza from the oven and drizzle a generous amount of honey over the top.  Slice and serve immediately.  Enjoy! 
Buon Appetito!
Subscribe to our YouTube channel for more videos! 
---

40+ Years of Innovation | 100% Made in Italy
Built to Last | Superior Design & Construction