Why an Outdoor Oven Is the Best Tool for Your Next Cookout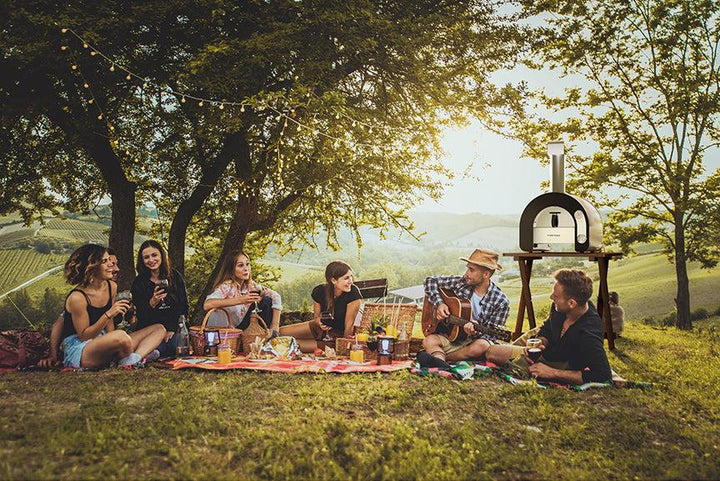 Are you tired of the same old grilled burgers and hot dogs at your cookouts? Want to impress your guests with something a little more unique and delicious? Look no further than a cookout party pizza oven. Not only is it a great conversation starter, but it also adds a whole new level of flavor to your menu. Let's dive into why a pizza oven is a must-have for any homecook.
Why a Pizza Oven Is the Perfect Secret Weapon for Your Next Cookout
If you're looking for a way to take your next cookout to a whole new level, consider investing in an outdoor tabletop pizza oven. Not only do our Fontana Forni models make delicious, restaurant-quality pizzas, but they can also be used to cook a variety of other dishes, such as pasta, loaves of bread, and roasts.
From crispy thin crusts to the gooey cheese and endless topping options, an outdoor oven is the perfect secret weapon for your next gathering. Our favorite perks of a pizza oven for an outdoor cookout include:
Versatile Menu Options
With a pizza oven, you have endless options for cooking, from classic Margherita pizzas to your signature creations featuring a variety of your favorite toppings.
The best part? You can cook more than just pizza. Our pizza ovens are perfect for baking bread, roasting vegetables, grilling meat, and even whipping up pies and desserts.
Ease of Use and Convenience
Using an outdoor oven is incredibly easy and convenient. Many of our models come with features like a steel door with a "no-hot" handle and analog thermometers, taking the guesswork out of the cooking process.
Our gas pizza ovens can also cook a pizza in just a few minutes, making it the perfect cookout idea for large groups.
Enhanced Flavor and Cooking Quality
When it comes to flavor and cooking quality, nothing beats a pizza oven. The high temperatures and wood-fired or outdoor gas ovens create a crispy crust and perfectly melted cheese that just can't be replicated. Plus, the heat distribution ensures that every bite is cooked to perfection.
More Social Fun
Using a pizza oven will let you create a unique experience and menu for a cookout that will be a hit and add even more fun to your next get-together. Fontana Forni USA's pizza ovens are a great way to get everyone involved in the cooking process and enhance your socializing.
The Limitations of Traditional Cookout Tools
Improved Cooking Control
Traditional grills and barbecues have limited temperature control, which can make it difficult to get consistent results. Our Fontana Forni pizza ovens have the perfect round vault which facilitates air circulation, and the gas burner on the bottom makes sure to distribute heat in even less time. Our compact and portable pizza oven range makes them an ideal choice for outdoor entertaining.
Cost-Effective
Investing in an outdoor pizza oven can save money in the long run as you'll be able to cook a variety of dishes without having to order catering for your events. You can choose between a standard wood-fired pizza oven, consuming five times less wood than a traditional ceramic pizza oven, or a gas oven that allows you to reach high temperatures with less fuel consumption.
Speed
An outdoor gas pizza oven is the perfect choice for cooking for large groups. Thanks to its high heat and state-of-the-art temperature control, you can have pizzas in and out of the oven in a matter of minutes. Compared to cooking food on a traditional grill or barbecue, an outdoor pizza oven is the fastest, easiest way to prepare delicious food no matter the number of cookout attendees.
Why Choose Fontana Forni for Your Next Cookout
What is a cookout without a stunning pizza oven? Fontana Forni is an established industry leader providing top-quality outdoor pizza ovens and accessories that make for unique, innovative, and fun hosting centerpieces all year round.
For more information and further assistance in selecting the best pizza oven for your home cookouts, look through our website or contact us at 877-842-9822 today.
---

40+ Years of Innovation | 100% Made in Italy
Built to Last | Superior Design & Construction