Vegan Pizza? 6 Vegan Pizza Toppings Everyone Can Enjoy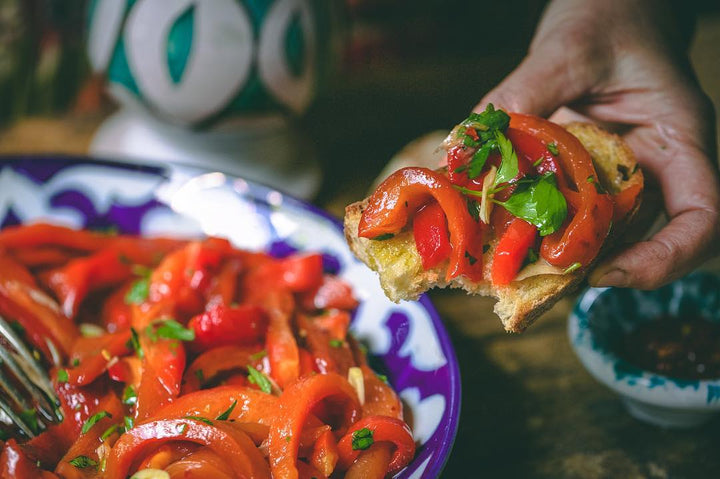 A vegan diet is just as varied and delicious as any other. Not only are there thousands of unique recipes out there, but there are also great takes on classic favorites—including pizza! It might sound like an oxymoron, but a vegan pizza with one of the following tasty toppings will please everyone's palates.
Roasted Chickpeas
When chickpeas are roasted, they take on a nutty taste. You can roast them in the oven dry or with oil; the longer the roast, the crunchier the result. The finished chickpeas can be tossed in your choice of seasonings. For a powerful kick, sauté lightly roasted chickpeas with garlic and sprinkle them over a pizza vegan crust with garlic aioli.
Roasted Red Peppers
Red peppers are flavorful topping that can be roasted to your desired softness; the longer the roast, the softer the bite. You can also blend soft roasted peppers with soaked cashews and use them as a base for a pizza sauce. This particular ingredient works especially well with spicy, smoky flavors, which makes it an ideal partner for the natural smokiness of a woodfired pizza oven.
Caramelized Onions
Caramelized onions lend a savory-sweet flavor to any pizza. When sautéed at low heat with oil and salt for at least half an hour to an hour while stirring occasionally, the natural sugars in the sweet onion caramelize, creating a tangy, golden-brown result. Other toppings that pair nicely with caramelized onions include mushrooms, garlic, and rosemary.
Nutritional Yeast
This special type of brewer's yeast is known for its rich vitamin, mineral, antioxidant, and protein content. In addition to providing nutrition and possibly boosting health, it complements a wide variety of ingredients with its cheese-like flavor. Like a sort of "vegan parmesan," nutritional yeast can be sprinkled over your pizza for a cheesy, healthful dish.
Arugula
Dark, leafy greens like arugula are great for packing nutrition onto your pizza when you're out of fresh basil. Its uniquely lobed leaves have a strong peppery, nutty, herbaceous flavor. Because mature arugula can be slightly bitter-tasting, it's great for balancing other strong flavors. As a pizza topping, it's nicely complemented by a drizzle of bold, tangy balsamic dressing.
Cheese and Meat Substitutes
Some folks have a hard time imagining pizza without cheese or meat, but they're not a requirement for authentic Italian pizza! If you want to provide a cheese alternative to guests, however, you can easily use products like cashew cheese, almond cheese, and Daiya shreds (made with tapioca starch and other plant-based ingredients). If you prefer to make it yourself, you can also find cheese alternative recipes online. Look in your supermarket's alternative meats section for a variety of vegan sausages to slice up or top your pizzas with marinated tofu or tempeh.
Make Flavorful Homemade Vegan Pizzas with a Fontana Forni Backyard Oven
No matter what toppings you choose to pile on your pizza, there's no better way to cook it than in your very own outdoor wood-burning pizza oven. At Fontana Forni, we've spent over 40 years perfecting our designs to give you the most efficient, authentic pizza experience. With Fontana Forni, you can bring the rustic deliciousness of traditional Italian cooking right to your backyard. 

Explore our selection of authentic pizza ovens online to find the perfect addition to your home.
Source:
---

40+ Years of Innovation | 100% Made in Italy
Built to Last | Superior Design & Construction