Transitioning Your Outdoor Kitchen from Summer to Fall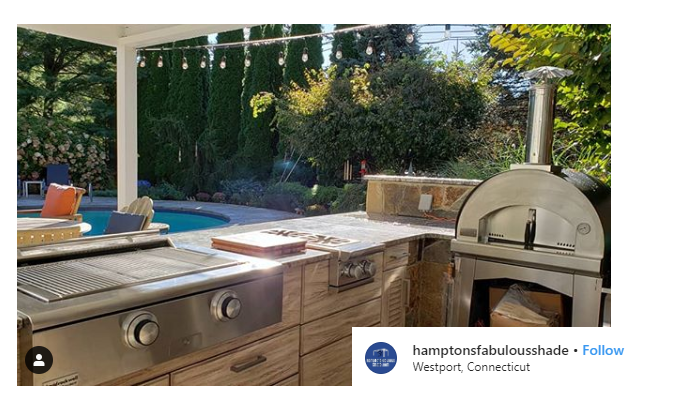 Just because summer is over, it doesn't mean you have to say goodbye to your outdoor kitchen; in fact, this cooler season is the perfect time to enjoy it. These tips will help you change things up and get even more mileage out of your patio space before the cold really sets in.
Longer Nights, More Light
With the sun setting earlier at this time of year, adding light to your outdoor space can help you enjoy it that much longer. Portable lighting can be great when transporting meals from your outdoor portable pizza oven to the table, as well as dishes and glasses. You can start a fire to keep everyone cozy as they eat, put up string lights around your outdoor kitchen's perimeter, or both.
Warmth Is Key
Those cooler temperatures are a great excuse for cuddling up. Adding some weather-hardy throws or blankets to your outdoor kitchen space will help keep everyone cozy. You can also throw in some fluffy outdoor pillows in earthy tones for your fall flip.
Change and Rearrange
During summer, friends and family may have gathered in a different area of the yard, such as the pool—but now that fall has arrived, seating can be moved closer to sources of heat like your fire pit or gas pizza oven. Both can offer warmth and the opportunity to create family meals or fun fire fare like s'mores.
Clean It Up
Whether you're in an area that experiences the bitter cold and snow of winter or not, a change in seasons is also a great time to clean and maintain your outdoor space. This definitely means giving your cooking appliances a good deep cleaning. Applying some elbow grease to your grill and pizza oven will keep them working efficiently all year round.Cleaning your stainless steel outdoor cooking appliances with a cleaning product such as Fontana Forni's oven cleaning kit or Bar Keeper's Friend. Applying some elbow grease to your grill and pizza oven will keep them working efficiently all year round.
The same is true of your fire pit outdoor fireplace; keep an eye out for anything unsafe, and ensure that both are in optimal condition. Speaking of fire, fall is also a great time to grab extra firewood for your fire and your pizza oven.
Sweeping up your patio area is also a great idea. Ensure all cooking areas are clean, but also shake out any rugs and cushions. Fall can bring the rain, and so erecting a canopy to cover the area can be a great idea if there's no roof over your patio. It's also ideal for discouraging falling leaves and other debris from reaching your outdoor kitchen.
Consider New Appliances
Leveling up on your outdoor appliances can mean an even better outdoor patio experience. For example, adding a professional pizza oven can open up a whole new world of flavors. Even on the coldest nights, your oven can be used to make fast, healthy, and delicious treats for the whole family to enjoy.
Looking for a quality pizza oven for all seasons? Fontana Forni USA pizza ovens feature 100% Italian construction and over 40 years of innovation. Find your perfect backyard pizza oven online, or call us at 1-877-842-9822.
---

40+ Years of Innovation | 100% Made in Italy
Built to Last | Superior Design & Construction