Top Accessories to Complement Your New Outdoor Pizza Oven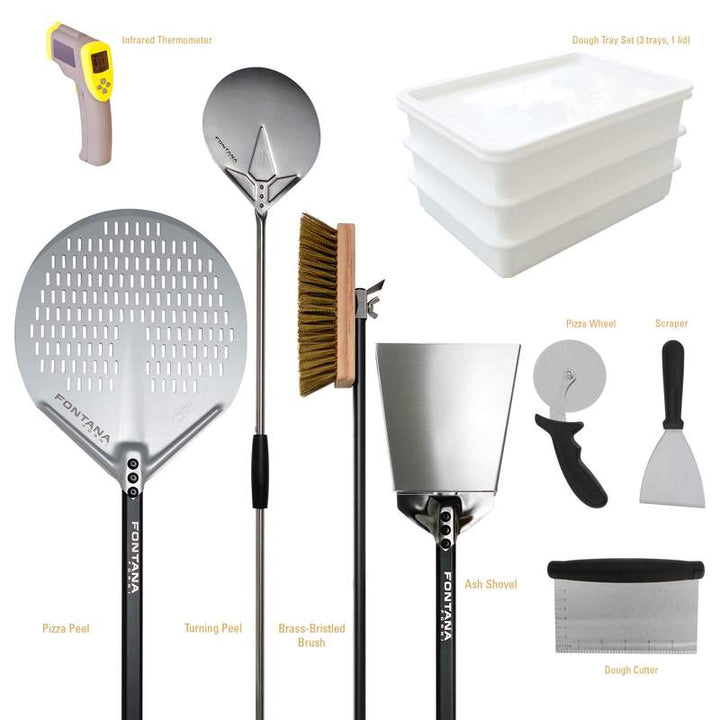 Before you start using your new backyard pizza oven, you'll want to make sure you have all the necessary supplies. Here are some of the best accessories you can invest in for a great pizza-making experience.
Pizza Peel
A pizza peel is a must-have for moving pizzas in and out of the oven. It's essentially a large spatula with a long handle to keep you at a safe distance from the heat. Slide the peel under the pizza for support, and then lightly shuffle it off after transfer. Features like beveled edges and perforations can ensure a smooth glide and prevent excess cornmeal or flour from burning onto the cooking surface.
Turning Peel
When you need to turn or adjust a pizza during cooking, you'll need a smaller tool than a pizza peel. A turning peel has a smaller paddle and a long handle that allows you to carefully reposition your pizza without removing it or getting too close to the heat.
Dough Cutter
If you've ever tried to tear a well-kneaded pizza dough apart with your hands, you know how tough it can be. A dough cutter is a simple hand tool that allows you to chop easily through dough for quick, equal-sized portions. This makes preparing multiple pizzas more efficient and can be helpful for chefs with arthritis or other dexterity concerns.
Infrared Thermometer
Keeping a consistent, sufficiently hot temperature is key to a crispy, evenly cooked crust. An infrared thermometer allows you to get fast readings by pointing the laser at the cooking surface. Choose a thermometer that can handle the extreme temperatures of a pizza oven; for reference, our ovens cook best around 750°F (850°F with the Neapolitan Saputo stone upgrade).
Pizza Wheel
When your pizza is done, you need a good cutting tool to get through the crust and toppings cleanly and create uniform slices. Invest in a good pizza wheel with a sharp blade and comfortable handle so that you can quickly and easily make cuts that go all the way through on the first pass.
Brass-Bristled Brush
Cleaning baked-on debris from your oven requires a specialized tool, especially when it's still hot. A stiff, durable brass-bristled brush is resistant to high temperatures and its rough texture buffs oven surfaces clean. Most brushes also include a scraper you can use to remove stubborn, charred bits.
Ash Shovel
When you're done cooking and your wood fire has cooled, you'll want to clean out your oven right away so that it's prepped and ready for the next use. An ash shovel has a long handle and a scoop head that allows you to easily shovel and dispose of ashes without getting covered in them.
Get These and Other Accessories from Fontana Forni
Make sure your outdoor pizza oven is equipped with all the right tools for the job. Check out our selection of pizza oven accessories to find everything you need to craft the perfect home-baked pies.
---

40+ Years of Innovation | 100% Made in Italy
Built to Last | Superior Design & Construction