The Best Pizza Wine Pairings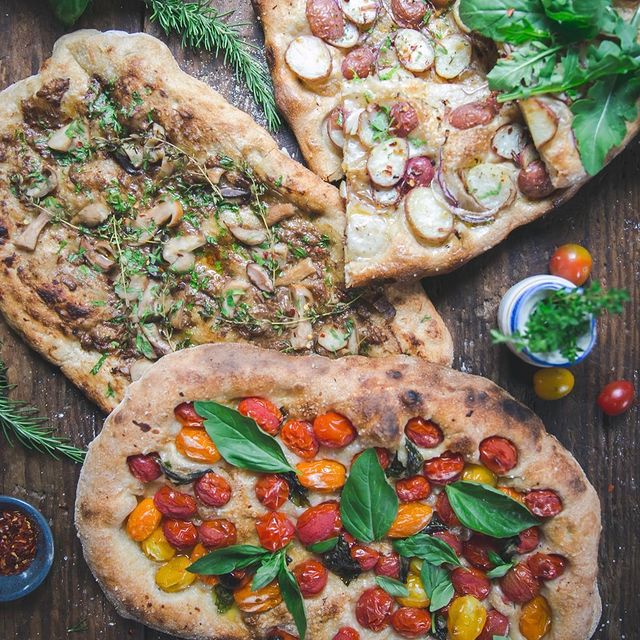 Pizza and wine pairings are essential to turn an average meal into a Michelin star meal. This is because, for all these years, you may have been eating pizza and may not have been aware that you can take it to another level by adding or pairing pizza with wine.
Or, then again, you may be a connoisseur looking to brush up on the best pizza and wine pairings out there at the moment. The question is simple: What wine will make my pizza better? We've selected our favorite combinations, which will enhance your experience in no time at all.
Margherita Pizza with Pinot Grigio
Ask almost anyone what their favorite wine or pizza is. More often or not, the same people will tell you that it's either the classic Margherita or the world-famous pinot-grigio. However, lovers of either pizza or wine don't always know that the two work in unison to provide you with the ultimate taste experience.
Pinot Grigio complements the aromatic fresh basil, tomatoes, and mozzarella better than any other red or white wines do. The leafy, light texture of the wine won't overwhelm or cancel out the milk-like freshness of the mozzarella that everyone expects when biting into a slice of their favorite pizza. So, the next time you feel like a pinot grigio or even a Margherita, consider putting the two together for the perfect pizza wine pairing.
Cheese Pizza with Montepulciano
Most critics suggest Montepulciano if you love a combination of creative toppings. Not only is this medieval Nobile Tuscan wine Italy's biggest vino export, but it also holds the title of wine most enjoyed with white pizza.
Montepulciano's balance of medium tannins and flavors harmonize with the dominant rich cheeses used on white pizzas. The wine also carries notes of cherry, plum, and rich aromas. These flavor notes add taste and focus to the rich texture of the soft dough and rich cheese. Simultaneously, Montepulciano is affordable and quick to fall in love with—that's if you love wine and pizza, of course.
So, whether it's cheddar, parmesan, or asiago that's your favorite topping, Montepulciano is essential to balance the flavors, enhance taste, and take your pizza to the next level.
Pepperoni with Cabernet Franc
If you Google the world's most famous pizza topping, you're sure only to get one result, which is pepperoni. Pepperoni is all-American, spicy, and rich in fatty flavor. What's more, pepperoni is a perfectly balanced mix of cured beef and pork.
So, it's no surprise that you may need a solid wine to counterbalance and complement the world's most famous pizza topping. All this makes Cabernet Franc the perfect wine. Let's first consider the spices in pepperoni. These include cayenne pepper, anise, garlic powder, paprika, and sugar. Cabernet Franc helps balance and complement the pepperoni by providing a fruity, herby, and peppery earthiness to the palate.
As an added bonus, Cabernet Franc dims something known as the "pepperoni effect." This means it drowns out residue flavors in an instant. So, next time you make your own pepperoni, why not add a bottle of Cabernet Franc to the menu?
Meaty Pizza with Merlot
Merlot loves meat. It's that simple. What's more, merlot will make you love meaty pizza faster than ever before.
Meaty pizzas are often made up of sausage, pepperoni, and ham. This means they need to be accompanied by an appropriate counterpuncher to get the most out of those rich fatty flavors. Merlot, with its elevated tannins, matches the beef toppings rich flavors pound for pound every time. So, after every slice, you get a refreshing palate enhancer with your merlot.
Vegetarian with Sauvignon Blanc
The so-called veggie pizza is a food lover's dream, but even the experts scratch their heads when considering the best pizza wine pairings. The veggie pizza often has peppers, olives, onions, or mushrooms, all of which provide a unique taste experience. That's why Sauvignon Blanc, with its crisp, high-acidity, and herbal bell pepper flavors, is a veggie pizza's best friend. This is because Sauvignon Blanc can stand together with almost any competing components of taste that a veggie pizza can throw at you.
With the summer fast approaching, you may be considering how to pair wine with pizza and cook pizza at home with family and friends. Fontana Forni is the first and only place to start. Its authentic backyard pizza ovens have been celebrated by pizza chefs for over 40 years.
If that's not enough, each of the residential pizza ovens in their collection was designed and constructed in Italy using the finest materials for an authentic touch and feel. So, check out Fontana Forni to make your summer garden parties amazing pizza parties this summer.
---

40+ Years of Innovation | 100% Made in Italy
Built to Last | Superior Design & Construction