The Benefits of Using an Outdoor Oven in Your Food Truck Kitchen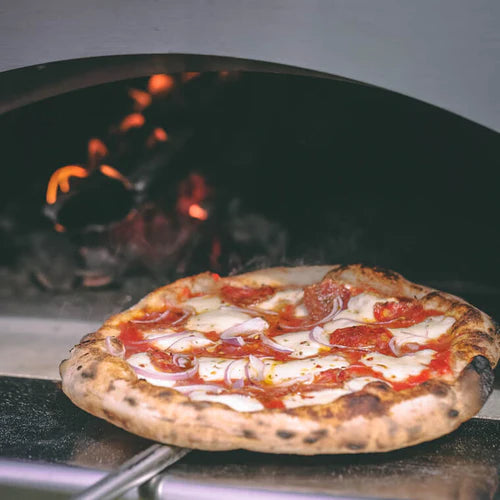 There are few things more enticing than the smell of freshly baked wood-fired pizza. Now imagine the delicious aroma of melting cheese and warm dough wafting through the air and attracting new customers to your food truck.
As a food truck owner or manager, you're probably always looking for ways to make your business stand out from the rest. If you're a pizza truck, there's no better way to set yourself apart than by cooking in an outdoor pizza oven.
Although outdoor pizza ovens can take longer to reach cooking temperature and take more effort to clean, they offer a variety of benefits.
If you've never considered a pizza oven for your food truck, here are seven ways a pizza oven trailer can help your business thrive.
7 Reasons Why You Need a Food Truck Pizza Oven
With pizza being one of the most popular foods, whether served as street food, in restaurants, or in fast food outlets, a wood-fired pizza truck oven can help you create a recipe for success in more ways than one.
Create the Perfect Pizza Crust
There is something irresistible about a wood-fired pizza crust, and it's easily distinguishable from pizza prepared in an electric oven. Wood-fired food truck ovens allow you to create the perfect pizza crust every time, setting you apart from your electric oven competitors and guaranteeing you loyal customers who will keep coming back for more.
Keep Customers Satisfied with Fast and Efficient Service
A food truck pizza oven allows you to bake more pizzas in one go, serving customers quickly and ensuring each customer gets a slice of piping-hot and fresh pizza. Convenience is vital in the food truck industry. By speeding up your service, you set your business up for success. 
Make More Space for Prep Work
Operating in a small space can hamper productivity, especially if a small space needs to be optimized to accommodate prepping, cooking, and serving.
An outdoor food truck pizza oven is ideal for freeing up some space, so you have more space to prep and serve your food without filling your limited interior with an oversized electric oven that only takes up more workspace.
As a bonus, an outdoor pizza oven serves as a great advertisement for your food truck and will draw customers much faster than simply baking pizzas inside your truck.
Get the Aroma Out There
Have you ever walked past a restaurant serving wood-fired pizza, and the smell is so enticing that you want to go right in and take a seat? Create that same temptation by baking authentic, wood-fired pizzas in your food truck and allow passers-by to be drawn in by the beckoning smell of freshly baked cheese, dough, and their favorite toppings.
Set the Tone with an Authentic Atmosphere
Apart from the smell, a wood-fired pizza oven gives your food truck a bona fide sense of authenticity that is highly popular among food truck consumers. With a more authentic and traditional look and feel, you'll swiftly gain popularity among food truck foodies and hungry passersby alike.
Expand Your Menu
Your menu options are virtually endless with a wood-fired pizza oven in your food truck. Beyond the traditional wood-fired pizza, you can expand your product range by including freshly baked bread, pastries, pies, and desserts, creating a menu that appeals to a broader consumer demographic and makes you more money.
Boost Your Profit
Making authentic and delicious pizza, opening up more space for working and prepping, giving your business an authentic look and feel, and expanding your menu with more delicious goods all contribute to boosting your business's profit. Your pizza oven will likely pay for itself within a short period after being purchased.
Put Your Pizza Oven Food Truck Business on the Road to Success with Fontana Forni
At Fontana Forni, we understand how authenticity and quality can positively impact your food truck business. Our wood-fired pizza ovens are designed to add a unique aesthetic quality to your business interior, consistency, and quality when it comes to cooking, and they are easy to clean and maintain.
We also offer top-quality pizza oven accessory kits that help you to prepare, handle, and cook food to perfection. 
Rise above your competitors in the food truck business by adding a versatile pizza oven to your trailer. Contact Fontana Forni today to level up your business and create a delicious and multifaceted menu with one of our premium outdoor pizza ovens.
---

40+ Years of Innovation | 100% Made in Italy
Built to Last | Superior Design & Construction