How to Cut Calories When Making Homemade Pizza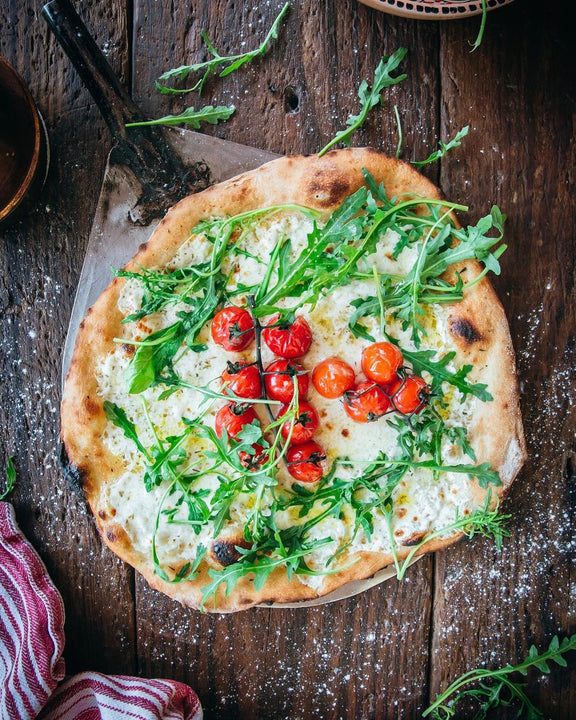 There are few things better than enjoying a slice of homemade topped with your favorite ingredients, but, as is the case with most good things in life, pizza is often not very healthy. Just one slice of that delicious pizza you made yourself can have up to 200 calories! Don't despair; we've got a handful of ideas on how you can make your pizza a bit healthier without cutting on taste.
Add High-Fiber Toppings to Fill You Up Quicker
One of the very best ways to ensure you're not over-indulging on your homemade pizza is by adding high-fiber toppings to it. Toppings like mushrooms, broccoli, pineapple, and garlic are great for this purpose. Adding these high-fiber toppings will help you feel full quicker, and it is a great way to get your recommended amount of fiber the tasty way.
Swap Out for Thin-Crust or Whole Wheat
We get it; a thick pizza crust is wonderful for your tastebuds and almost entirely irresistible. Unfortunately, it's not so good for your health since a thick crust can be filled with calories.
You can opt to make your pizza with a thin crust instead, or you can use whole wheat flour for your dough. Either option will be far healthier than a thick crust.
Less Is More with Cheese
Cheese is possibly one of the best things about pizza, but it's also very unhealthy. That doesn't mean you have to remove cheese from your toppings list, though. Just use about half the amount you'd typically eat. It's also a good idea to use higher-quality cheese with more pungent tastes, so you won't even notice there is less on the pizza.
Go with a Well-Seasoned Red Sauce
The sauce of your homemade pizza is very important. If you go for a well-seasoned red sauce or a creamier option, your pizza is already healthier. When your sauce is full of spices and fresh herbs, it's tasty and flavorful, so you won't need a ton of toppings for a delicious experience.
Avoid High-Calorie Toppings
This is a rather obvious piece of advice, but try to have healthy toppings on your pizza. Sure, sausage or pepperoni is yummy, but there are many low-calorie options that will still make a great pizza. Grilled chicken, turkey pepperoni, tomato, and mushrooms are awesome toppings that won't leave you feeling guilty for eating an extra slice.
Cut Smaller Slices
Another obvious tip that really works is cutting your pizza into smaller slices. We often "eat with our eyes," so if we do have two smaller portions, we'll still feel like we indulged and had a great pizza experience without wrecking our diets.
Indulge in Your Pizza Cravings Without Guilt
Making pizza at home is fun and a great way to ensure you're not consuming too many calories. Get one of Fontana Forni's masterfully crafted pizza ovens and craft sumptuous pizzas that are delicious and healthy to spoil yourself and your family. Check out our range of pizza ovens at FontanaForniUSA.com today!
---

40+ Years of Innovation | 100% Made in Italy
Built to Last | Superior Design & Construction