Advantages of a Portable Outdoor Oven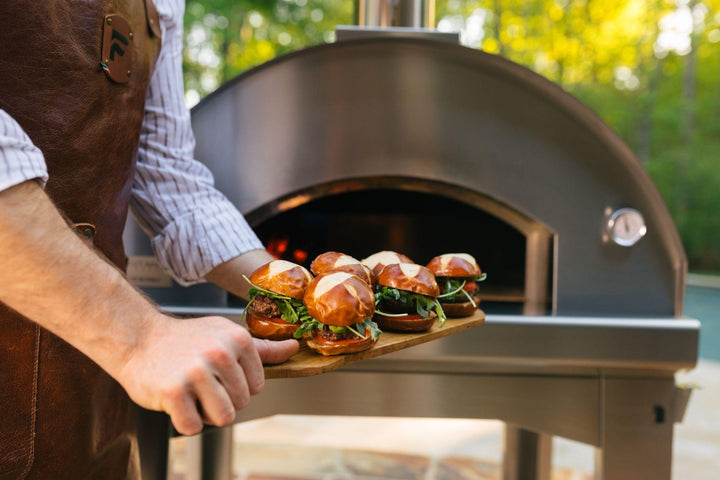 Are you someone who loves to cook and spend time outside? If so, have you considered investing in a portable outdoor or countertop oven? Whether you're camping, tailgating, or just spending a day in your backyard, a portable oven can take your outdoor cooking game to the next level.
Not sure a portable outdoor oven is for you? Read on to discover the six things we love most about them and why they just might be the perfect addition to your outdoor cooking setup.
The Top Six Benefits of Portable Pizza Ovens
Portable pizza ovens are becoming increasingly popular and for good reason. Not only are they versatile and compact, but they offer several benefits that regular ovens just can't match.
Can Be Used Inside and Outside
One of the biggest advantages of a portable pizza oven is its ability to be used both indoors and outdoors. This is especially useful for people who love entertaining guests in their backyard, but also want to use their pizza oven indoors during the colder months.
Easy to Move Around
Another benefit of a portable pizza oven is that it is easy to move around. Most models come with wheels, or moveable stands, making them easy to transport from one location to another.
Great for Outdoor Entertaining
An outdoor portable pizza oven is perfect for entertaining. Whether you are hosting a large party or a small gathering, a portable pizza oven will add an element of fun and excitement to your event. Your guests will love watching their pizzas cook right in front of them and have the chance to try their hand at cooking and topping their pizzas themselves.
Ability to Cook Unique Dishes That Aren't Possible in a Normal Oven
A portable pizza oven offers a range of cooking options beyond just pizza. You can use it to cook everything from bread and roasted vegetables to steak and eggs in a cast iron skillet. This versatility is due to the high temperatures that a pizza oven can achieve, which isn't typically possible in a regular oven.
Fast Cooking Time
Portable pizza ovens have a fast cooking time, with most models cooking a pizza in just a few minutes. Once the oven reaches the right temperature, pizzas are cooked quickly and easily, and you can guarantee each pie has the perfect crispy crust.
Easy to Clean and Maintain
Compared to regular ovens or portable cooking alternatives, portable pizza ovens are easy to clean and maintain. They do not take up much counter space and can be easily wiped down after each use. This is a significant advantage over traditional kitchen appliances, which can take up a lot of space and require regular cleaning with tough chemicals.
Why Choose Fontana Forni?
If you're in the market for a high-quality outdoor pizza oven, then Fontana Forni is the brand to choose. With a rich history of crafting top-of-the-line ovens designed in Italy, Fontana Forni has earned the trust of countless satisfied customers over the years.
Some of the advantages of opting for a Fontana Forni wood- or gas-fired pizza oven include:
Exceptional performance: With their superior insulation and innovative design, Fontana Forni ovens reach high temperatures quickly and maintain them efficiently, resulting in perfect pizzas and other delicious wood-fired dishes every time.
Durability: Fontana Forni ovens are made from high-quality materials that can withstand years of use and exposure to the elements. They're built to last, so you can enjoy your oven for many seasons to come.
Versatility: In addition to pizzas, Fontana Forni outdoor pizza ovens can be used to cook a wide range of dishes in an equally varied number of outdoor environments.
You deserve the best when it comes to your outdoor dining and cooking experience. Choose from our collection of quality, stunning pizza ovens and start creating delicious dishes wherever life and adventure take you.
---

40+ Years of Innovation | 100% Made in Italy
Built to Last | Superior Design & Construction