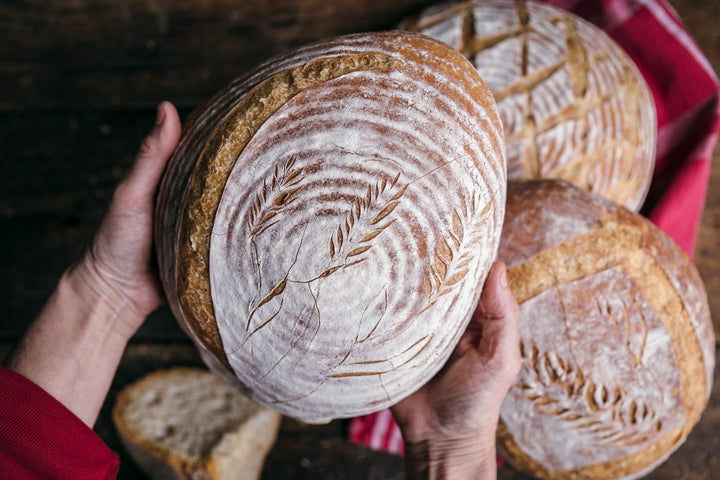 Zöe's Master Bread Recipe
Have you ever desired to make fresh baked bread for your family and friends, but have felt too intimidated by the process? Don't fret any longer! Today we are going to show you a simple, step by step video with a revolutionary way of baking bread developed by an amazing pastry chef and baker, Zöe François and her partner Jeff Hertzberg.
"With only 5 minutes a day of actual active effort, you will learn to mix the ingredients into a container all at once, and then let them sit for two hours. Now you are ready to shape and bake the bread, or you can refrigerate the dough and use it over the next couple of weeks. Yes, weeks! Each recipe makes enough dough for many loaves" (The New Artisan Bread in Five Minutes a Day (pg xi)).
With her permission we will be showing you the very simple steps for you to prepare the most delicious loaf of bread. Inevitably, you will get so hooked in the bread baking experience, you will want to learn more and more about the beautiful and ancient mystery of bread baking. Experimenting with different methods of making bread, as well as hydration levels, fermentations, filling the oven chamber with steam, will become your new quest. How satisfying when you will finally mark your loaf of bread with your very own, personal signature by scoring each loaf with a lame. Undoubtedly, this will become a beautiful bread making journey filled with discovering, learning and creating. 
Recipe:
You can find the exact measurements and process to this recipe at The New Artisan Bread in Five Minutes a Day Master Recipe!
Buon Appetito!
Subscribe to our YouTube channel for more videos! 
Follow us on Instagram and tag us with your culinary magic!
@FontanaForniusa   #fontanaovens
Quote taken from the book by Zöe François and Jeff Hertzberg - "The New Artisan Bread in Five Minutes a Day" (page xi). Awesome book!
---

40+ Years of Innovation | 100% Made in Italy
Built to Last | Superior Design & Construction