Saltimbocca alla Romana - Veal Saltimbocca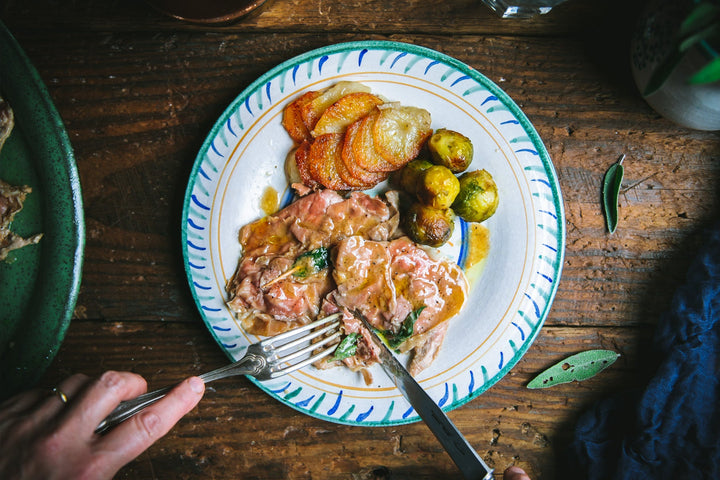 Saltimbocca alla Romana - Veal Saltimbocca
Recipe:
Saltimbocca alla Romana is an exquisite and mouthwatering entrée - a "secondo" typical to Roman cuisine, but also a dish loved throughout Italy.  Thin slices of veal dusted lightly in flour just on one side, topped with Prosciutto Crudo and a fresh sage leaf, are finally secured with a toothpick and quickly prepared in a frying pan.  In no time at all a flavorful dish is served drizzled with a delicious wine reduction. The secret to great success is a very brief cooking time.  Easy to prepare, but incredibly flavorful when accompanied by a fresh salad and a side-dish of your choosing.  No wonder they are called saltimbocca, because they will just jump into your mouth as their literal name states. Let's get started!
Supplies:
Ingredients:
8 veal cutlets or scaloppine - very thinly cut
8 slices of Prosciutto Crudo di Parma
30 grams All Purpose flour for dusting
8 large sage leaves - we only had smaller sage leaves in the garden
200 grams or 1/2 cup white wine such as Pinot Grigio
50 grams butter - 25 for the pan, 25 for the reduction at the very end
1-2 Tablespoons olive oil
Salt and pepper to taste - use very little salt as the prosciutto is already very salted
Directions:
Preheat the stove top of the Wood Fired Pizza Oven.
Place the veal cutlets on a cutting board, or between parchment paper.  Lightly wet the meat, and with the help of a meat mallet very gently pound each cutlet, as shown in the video. The water helps the mallet to slide over the meat without damaging it.
Cover each cutlet with a slice of Prosciutto, and top each off with a leaf of fresh sage.  Secure the Prosciutto and the sage with a toothpick, as shown in the video. Summer is definitely the best time to harvest large sage leaves from the garden.  Ours happened to be smaller.  
Spread the flower into a flat dinner plate.  Dredge each veal cutlet in the flour ONLY on the side that is free of prosciutto and sage.  Shake off any excess flour by patting each cutlet.  Set aside.
Preheat a large frying pan on the stovetop of the Wood Fired Pizza Oven
Once heated, place 1/2 of the butter and olive oil in the pan and allow to melt. 
Carefully place each cutlet into the hot pan with the Prosciutto and sage on top.  Let sizzle for about 35-40 seconds.  The cutlets can be flipped on the other side for literally just a second or two.  Be mindful of the fact that prosciutto changes in flavor if cooked.
Pour the white wine into the pan and allow it to "sfumare" - to cook out for an additional 2 minutes. 
Transfer the cutlets on a warm plate and cover with foil.  
Place the rest of the butter into the pan while stirring, allowing it to melt and marry with the sauce.  This will create a perfectly creamy and delectable reduction which will be poured over the Saltimbocca alla Romana. 
Serve immediately while still hot accompanied by a fresh salad, roasted potatoes, seasonal vegetables, or a side of your choosing.  Enjoy!
Buon Appetito!
Subscribe to our YouTube channel for more videos! 
Follow us on Instagram and tag us with your culinary magic! We would love to see how you make this recipe!
---

40+ Years of Innovation | 100% Made in Italy
Built to Last | Superior Design & Construction