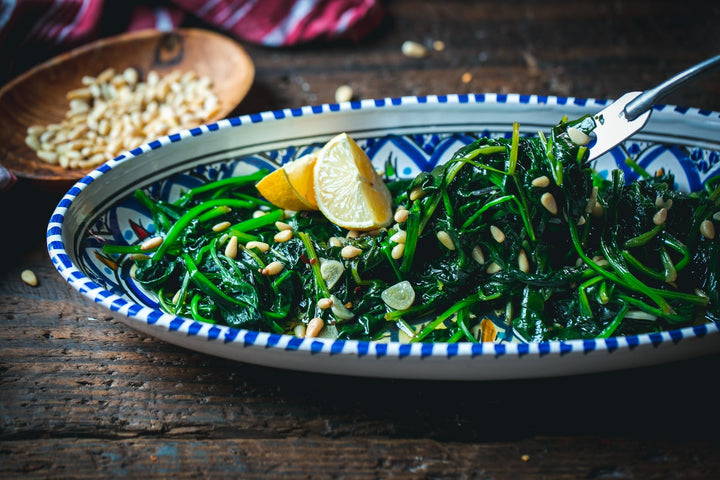 Tuscan Spinach  
Recipe:
Simple sautéed spinach in a pan!  Here's a great and easy way to quickly put together a delicious, flavorful and healthy side-dish.  Although in today's stores most ingredients can be found year round, there is just nothing quite like using fresh, seasonal ingredients.  Today two bunches of freshly cut spinach along with thinly sliced garlic and roasted pine nuts will be transformed into a mouthwatering contorno.  Let's get started!
Supplies:
 Ingredients: 
2 large bunches of spinach
2-3 garlic cloves 
Hot pepper flakes to taste - optional
Salt to taste
Olive oil 
2 handfuls pine nuts 
fresh lemon wedges
Directions:  
Preheat the The Mangiafuoco Home Gas Pizza Oven to 375°-400°F - 190°-200°C.
Thoroughly rinse the spinach several times until the water is completely clear. 
Next, thinly slice the garlic.
Drizzle olive oil in the preheated pan and add the garlic and hot pepper flakes.  As soon as you smell the aroma of the garlic being released, transfer the dripping wet spinach into the pan.  Immediately cover with the lid and place back into the oven.    
Grab a handful of pine nuts and place in a separate pan.  Toast in the oven until the oil is released from the pine nuts.  Make sure to toss the nuts occasionally so as to not over toast them.  
It will be evident in just a few minutes that the spinach will wilt but still retain its vibrant green color.  Season with salt and the spinach is done. 
Transfer the spinach into a serving platter and sprinkle the toasted pine nuts over the top.  Make sure to add the garlic as well.  Drizzle with additional olive oil and top everything off with a squirt of fresh lemon juice.  Enjoy!
Buon Appetito!
Subscribe to our YouTube channel for more videos! 
Follow us on Instagram and tag us with your culinary magic! We would love to see how you make this recipe!
@FontanaForniusa   #fontanaovens
---

40+ Years of Innovation | 100% Made in Italy
Built to Last | Superior Design & Construction