Zucchini Ripieni - Stuffed Zucchini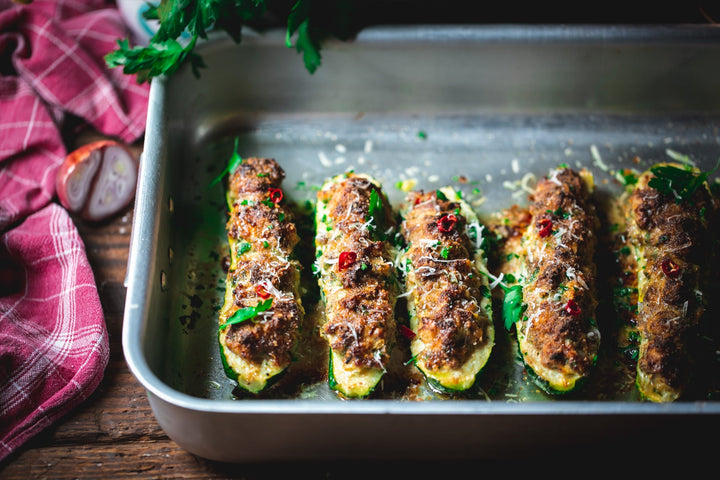 Zucchini Ripieni - Stuffed Zucchini 
Recipe:
Zucchini Ripieni or Stuffed Zucchini Boats, are a perfect, simple and delicious meal when this glorious vegetable is in season and growing in the garden.  Nothing more wonderful than to cook outdoors in a wood-fired oven, when it is just too hot to turn the oven on inside.  Simply stuffed with sausage, eggs, cheese and fresh herbs and in no time at all a mouthwatering dish is served.  Let's get started! 
Supplies:
Mixing bowl
Knife or mezza luna
Pot for boiling water
Colander
 Ingredients:
3 medium zucchini 
50 grams bread crumbs or crumb of day old bread soaked in milk
80 grams milk (if using the crumb of day old bread) 
300 grams Italian sausage (we prefer the one without fennel seeds)
2 eggs
60 grams Parmigiano
Small bunch parsley
A few chive sprigs 
1-2 cloves garlic
Half a shallot
Cayenne pepper to taste
Salt to taste 
Extra Virgin Olive Oil
Directions:
Preheat The Marinara Pizza Oven to 375°F - 190°C.
Place the whole zucchini into salted bowling water and simmer for 5 minutes.  After 5 minutes, place the zucchini in a colander to drain and cool.
Soak the crumb of the day old bread in a bowl with milk.  Allow the crumb to completely soak up the milk, then squeeze the milk out.  Set the bread aside and discard the milk.  **If using dried bread crumbs, the milk process can be eliminated.
Remove the casing from the sausage, break up the meat and place in a bowl.
Crack the eggs in a separate bowl, whisk thoroughly and add to the sausage. 
Finely mince the shallot, garlic, cayenne pepper, parsley and chives.  Add them to the sausage.  Reserve some of the parsley for garnish.
Add the grated Parmigiano Reggiano, the soaked bread or bread crumbs and a pinch of salt to the sausage mixture.  Thoroughly mix everything together.   
Remove the ends of the zucchini and carefully cut them in half, longways, as shown in the video.
With a spoon, remove the center flesh of the zucchini, creating a "boat".
Chop the removed flesh of the zucchini and add it to the sausage mixture, stirring it in well.
Place the zucchini boats in a baking dish, and fill the boats with the sausage mixture.  
Sprinkle some breadcrumbs over the top of the zucchini and drizzle everything with olive oil.
Check the temperature of the oven with the infrared thermometer.  Place the pan in the oven, close the door and allow to bake for about 30-35 minutes.
Once the filling on the zucchini is a nice golden brown and crispy, remove from the oven.
Garnish the zucchini with finely chopped chives and parsley and your dish is ready to be served!  Enjoy! 
Buon Appetito!
Subscribe to our YouTube channel for more videos! 
Follow us on Instagram and tag us with your culinary magic! We would love to see how you make this recipe!
---

40+ Years of Innovation | 100% Made in Italy
Built to Last | Superior Design & Construction